You Never Knew You Needed Halloween Fruit Until This Target Collection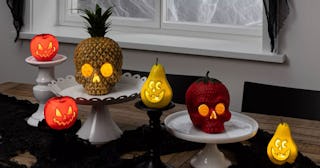 Target
Target has a Halloween fruit decor collection and BRB, buying it all
As you assemble your Target list for this weekend (which, I only go in with vibes and a Starbucks Pink Drink, but do you) please add "Halloween fruit." What's that, you ask? Allow us to clue you in so you can become just as obsessed as we are with this ridiculously cute spooky season decor you had no idea you needed.
It's really not so crazy to light up all different types of fruit when you consider that we've been lighting up pumpkins since the dawn of time (ok, maybe not that long) and pumpkins are also a fruit. All Target did was expand the types of fruit we can light up in the spirit of the best holiday of all (don't @ us). You can keep your gourds (ok, maybe we want those too) — we'll take a bunch of these light-up Halloween pineapples instead. At just $10 each, can you blame us?
I live in the south so I'm far more likely to see pineapples and other fruits in the wild than I am pumpkins. Around here, we buy our pumpkins at Publix, sadly. So festive. I'm very much here for the diversification of our Halloween jack o'lanterns, y'all. Look at this pair of smiley lemons all ready to Halloween-ify your kitchen counters. Need immediately.
And how about these precious pears? They look so happy to be part of your Halloween decor scheme and by some miracle, they're only $5 for a pair. Like, how does Target always know what we will squeal over and that if it's only $5, we're buying a dozen?
Another $5 find? This strawberry jack o'lantern that's missing the lower half of its jaw but that's ok because we are trying to go for cute plus scary.
This collection has absolutely no right being this adorable and we should probably just officially direct deposit a portion of our paychecks straight to Target because they truly never miss.