Everyone Remain Calm: Chip and Joanna's Target Holiday Line Is Here
by Julie Scagell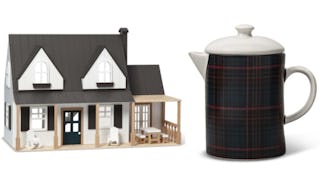 Image via Target
Chip and Joanna's Hearth & Hand collection is bringing it this holiday season
HGTV's powerhouse couple Chip and Joanna Gaines just announced their new holiday line exclusively at Target. Just the fact that we use the Gaines' and Target in the same sentence is a damn blessing. But looking at their holiday line makes it just that much sweeter.
The husband-wife duo from the ever so popular Fixer Upper has featured their Hearth & Hand collection in Target for some time, but their holiday line full of brand-new decor items is sure to get even the most Scrooge-y of folks excited at the possibilities.
The collection is available in stores and online beginning Nov. 1, but here's a little sneak peek in case you (like the rest of us) cannot even wait one more second.
Yes, hello, look at this ridiculously adorable wooden advent calendar.
And these chic little jar candles.
Check out this real-life replica of Magnolia Farms, because what child (or adult) doesn't want to decorate the shit out of this?
Their collection features everything from ornaments to garland to home decor and everything in between. And if you tried to snag their stuff last holiday season, you know you better step on it if you want a chance at getting any of this in your home before the family descends.
Can you say Santa remembered your family pet?
And your walls…
Here's just a whole bunch of holiday treasures to put the Fa-La-La into your October (and future holiday shopping):
And what kid wouldn't want this teeny tiny Magnolia Farms kitchen under the tree:
And they can ask Santa for it using this super authentic North Pole stationary.
The Gaines' have been busy, it seems. There have been cookbooks, new shows in the works, and of course their new baby boy, Crew. But, since their flagship HGTV show ended after five seasons, their legion of fans will take anything they can get related to the couple.
I'm not one to take sides, but this wee plaid coffee pot is my absolute favorite thing on the planet right now (besides my family, of course):
Basically, there's no way you can go wrong with anything they've created this year. It's really a matter of divvying up the money you have for the kids versus what you have to spend on yourself and doing some creative budgeting in your favor.
Happy shopping, everyone.
This article was originally published on