Target Won't Smack You In The Face With Christmas Until You're Good And Ready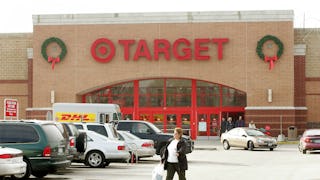 Image via Tim Boyle/Getty Images
You won't see Christmas take over Target until after Thanksgiving
Ah, the holidays. The most magical time of the year is upon us, so time to crank up those Christmas tunes, pour yourself a glass of eggnog, and sit by a crackling fire. Oh, wait. It's still October. It's not even Halloween yet. Christmas is literally months away. Except you wouldn't know that from stores, many of which are already rolling out their Christmas decorations and sales.
But not Target! In a bid to save our sanity this holiday season, the big red bullseye is giving Halloween and Thanksgiving their due and hitting pause on Christmas until it's, you know, actually time to start thinking about Christmas. It's part of a Target initiative to listen to feedback from customers, who apparently overwhelmingly want "Christmas creep" to slow down.
"As it relates to Thanksgiving, we've heard from our guests that they want us to celebrate Thanksgiving before moving into the holidays," a Target spokesperson exclusively told Scary Mommy. "So this year, we'll wait to feature holiday signing at the front entrances of our stores until after Thanksgiving."
But before you get too excited, that doesn't mean Christmas won't be making any appearances at all at Target until Thanksgiving is over. You just aren't going to get smacked in the face with Christmas trees the moment you walk in the door, at least not until after you've finished your turkey and mashed potatoes.
"To clarify, holiday merchandise and signing will be found throughout our stores beginning in early November, which is consistent with past years," the spokesperson continued. "The change for this year is only to the signing we place at the front entrances of our stores… Our holiday sections will still exist as usual and will be throughout the store in early November. In terms of timing, it varies by store, but early November is when stores begin to transition to holiday which includes signage and product. We will begin to roll out front of store holiday signage after Thanksgiving."
Bless Target for knowing what we want and need.
That's not the only change coming to the retailer this holiday season. The store is also rolling out a number of new holiday deals and promotions, including weekend-specific deals to help out the many shoppers who are only able to get to the stores on weekends.
"We offer more sales during the holiday season than we do during any other time of the year and guests will have a number of ways to save at Target throughout the holiday season," a spokesperson for Target said. "This includes a new sales event we're introducing this year called Weekend Deals, which begins Nov. 11 and will continue each weekend throughout December. Additional sales will be highlighted in our Weekly Ad and on Cartwheel, where we'll offer thousands of items on sale throughout the season. This is on top of the thousands of items that are 'Priced Right Daily' across our assortment."
This is in addition to more online sales and guaranteed two-day delivery on a lot of items online, as well as curbside pickup, one of the more popular features offered by Target competitor Walmart. Not having to get out of the car to pick up your holiday shopping? Count us in.
For now though, sip that pumpkin spice latte and take the kids trick-or-treating, because 'tis the season for those things, not Christmas.
This article was originally published on