Target's Selling Tons Of Holiday-Themed Matching Family Pajamas
by Thea Glassman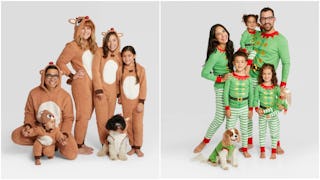 Image via Target
These matching family pajamas from Target are the perfect way to celebrate the holidays
There's officially a nip in the air which means that it's time to cozy up in a thick sweater, comfy socks, and baggy sweats. But to take upcoming winter snuggling to a whole other level, we would like to point out Target's new line of family pajamas. They're matching, they're holiday-themed, and it's mandatory that everyone participate.
Okay, we know it's only October, but Christmas is basically around the corner. That means that everyone should all probably (definitely) dress up in matching Santa Claus pajamas. The family dog will be particularly pleased.
Please name one cuter idea than the entire family dressed up as Rudolph the Red-Nosed Reindeer. These pajamas look ridiculously cozy and come complete with red-nose hoods for all. Again, your dog will be the happiest of campers.
Is there a better way to spend the evening than rewatching the movie Elf, while dressed up as elves? Nope, I think not.
This one goes out to the family who will talk all things Quidditch, Dumbledore, and Hogwarts to just about anyone will listen. Theses pajamas are both super cute AND feature Harry's iconic glasses on the pants. Win-win.
Families should probably celebrate Hanukkah's eight nights by rocking these very adorable matching numbers. Pass all the latkes, please.
The Grinch might have been the crankiest, meanest creature out there but that doesn't mean his face won't look very cute on brand-new pajamas.
Want a really nostalgic throwback? Rock these Peanuts-themed pajamas and pay homage to Woodstock, Snoopy, and the whole rest of the gang.
For those looking for slightly more subtle matching pajamas (fair enough), go with the snowflake set. Still festive, but slightly less mortification if any unexpected guests drop by.
Now, go snuggle up in one of these pajama sets, turn on some jingles, and start drinking all the hot chocolate. Holiday season is almost upon us and there's so much coziness to be had.