Target's Selling Glitter-Filled Oversized Inflatable Chairs, Our 90's Hearts Are Soaring
by Thea Glassman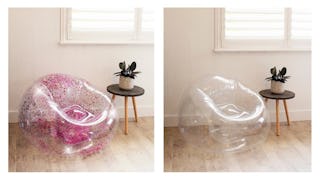 Image via Target
Target is selling sparkly inflatable chairs and our 90's hearts can't take it
First, they brought back Polly Pocket. Then, they gave us a Spice Girls reunion. Now, the 90's gods are gracing us once more by rereleasing those iconic inflatable chairs that were a staple in every kid's bedroom. Nope, they weren't super comfortable. Yes, they squeaked when you moved. But they definitely looked really cool.
Target introduced a new line of inflatable chairs aptly called "Air Candy." They literally are like oversized blobs of sweets, finished off with a massive dose of sparkles. If you do decide to purchase one of these chairs, you'll probably want to dig out your old Hanson poster and hang it on the wall for good measure. Also, whip out your very best spiral notebook. Because you can't do anything 90's inspired without a spiral notebook (preferably with your middle school crush's name doodled along the edges).
Let's take a tour, shall we? First up, is this pink sparkly number. It's made from 100% vinyl, can hold up to 250 pounds, and rings in at $29.99. Once again, this is not going to be the comfiest chair in your household but damnit does it look cute.
Next, we've got a slightly more refined version of the above. It's the same chair but covered in gold sparkles. A wee bit classier and potentially more grown-up (I mean, barely, but whatever).
Lastly, we've got the pièce de résistance: the multicolored inflatable chair. Because it's really not paying homage to the 90's if it's not jam packed with a whole bunch of conflicting colors. All that's missing are butterfly clips and hair crimpers.
90's legend Sabrina Spellman would wholeheartedly approve. The entire cast of Sweet Valley High and Saved By The Bell would definitely have at least one of these in their bedrooms. Daria would hate it.
Now, go get your sparkly inflatable chair game on. Friends might judge your taste at first, but the kids will probably love it and you officially have an excuse to rewatch Nick at Nite reruns. Because you really can't have a sparkly inflatable chair and not rewatch Nick at Nite.
This article was originally published on