Target Has Inflatable Pools That Fit 3 Adults So Call Your BFFs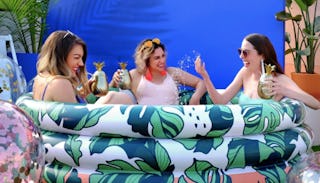 Image via Target
These inflatable pools from Target are just what you need to make every day a pool party
Even though it's technically still several months away, we're going to choose to keep telling ourselves that summer is just around the corner. Time is a construct anyway, right? And since it's basically summer, it's time to start planning how to maximize fun in the sun and general enjoyment, all while soaking up as much of that sweet, sweet vitamin D as possible. It's been a long winter, OK?
As always in life, Target has our backs. Our favorite store is selling "minnidip" inflatable pools that are the perfect size for a quick after-work pool party with your besties. Or your kids, whatever. They're 5.5 feet wide and 1.5 feet tall, which means they can fit up to three adults, and that's what matters here.
The pools are designed by La Vaca, who brands them "the first designer inflatable pool." And designer is right — these things are gorgeous. They come in a variety of trendy prints that we're already dreaming about matching to our bathing suits. The Instagram potential here is very high.
Check out this beauty, in a print called Fresh Cut.
Or this one, which is called That's Bananas.
Not your style? How about Just Add Watermelon?
Not feeling any of those prints? Don't worry, that's only half of what's available. There are still three more patterns to choose from. Like the delightfully minimalist Dipped In Ink.
Or how about the very summery Squeeze The Day?
Feeling a little more artistic? If so, Soak In Some Watercolor might be more your style.
We told you these babies are beautiful. Gone are the days of inflatable pools being grass-killing eyesores. One of these would actually enhance your backyard or porch decor. You could coordinate it with your deck chairs, accent pillows or tablecloths. This isn't just a pool party in a box — it's a design aesthetic and your backyard is begging for it.
But wait. This situation somehow gets even better. These pools are only $40 a pop, which means Instagram-ready summertime pool party fun is within reach for just about anybody. You could even get two. Variety is the spice of life, after all. And pool parties are the spice of summer. Or something.
Plus, each pool only weighs about 10 pounds (unfilled, of course) and only takes 10 minutes to set up. You could go from just getting home from work, still dressed business casual, to sipping on a fruity summer cocktail in your own personal backyard pool in less time than it takes to pack a beach bag. Because sure, you could go to the beach, or even the public pool. But why would you do either of those things? You have your own pretty little pool that doesn't require leaving the house. Or interacting with other people. You are winning.
So get to Target to pick one of these babies up (along with a fresh new suit), whip up a pitcher of mojitos or margs, and call your girlfriends, because it's pool party time.
This article was originally published on