Target Launches Gorgeous Maternity Line Because Miracles Are Real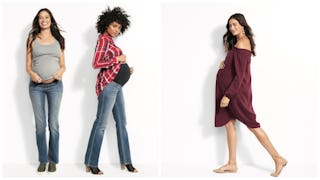 Images via Target
Target partners with Ingrid & Isabel for exclusive line of maternity clothes
Between the announcement of their new brands and gender neutral clothing line for kids, Target has been killing it lately in the exciting news department. But they're not done yet. The company just announced they're creating an exclusive in-house line of super cute yet affordable maternity clothes.
Fine, here are our purses Target. Go ahead, just take it all.
The line is set to arrive in stores and online on July 30. It will be called Isabel Maternity. The new collection is the result of a partnership between the giant bullseye and high-end maternity line Ingrid & Isabel. If that name sounds familiar to moms or those who are currently pregnant, they're the line behind the BellaBand — that genius tube of supportive fabric that lets you get away with wearing your regular pants and skirts long after the zipper refuses to close. (I may or may not still have one tucked away somewhere for Thanksgiving season.)
The line has 120 pieces, everything from nursing bras and jeans to trendy dresses. The best part is that these designer threads don't come with a hefty price tag to match. Target says items in the Isabel Maternity line range from $9.99 -$39.99.
Having more options in your closet while pregnant is always a good thing, but what's even better is how the new line is designed to help moms-to-be plan a wardrobe they'll feel good in all pregnancy long, instead of just buying standard maternity clothes in the first trimester and waiting for your bump to fill them out.
The line will even include maternity activewear, great for prenatal yoga, going for a run or napping on the couch.
Jeans with built-in lower back support? Can we wear those even if we're not pregnant?
Because not everyone's body "bounces back" right after giving birth, the line also includes smart looks for nursing moms, like dresses with built-in nursing access.
Guess who just became the best dressed preggo in birthing class?
This article was originally published on