Target Will Soon Be Selling $5 Bottles Of Wine, Because They Get Us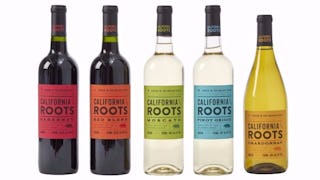 Image via Target.
New line of wines made with California-grown grapes.
Determined to make us love it even more, Target just announced an incredible new line of wine. And the best part is that each selection from the collection only costs $5 a bottle. Move over Trader Joe's; there's a new wino in town.
As long as you're not super snobby about the cost of your wine, you'll likely find and love one of the five new gems from Target. The collection is called California Roots since all the blends are made with premium, California-grown grapes. We don't if they're actually premium or what a grape does to earn that title, but Target says they're A+, and we trust the mother ship. Without further delay, let's meet your new favorite beverage.
First up is the Chardonnay blend. According to Target, the wine's profile includes "lush tropical fruit flavors and a bright finish," which sounds perfect for the last days of summer. Our besties (Target employees) recommended pairing this wine with artisanal cheeses and freshly baked bread. When are fancy cheeses not a great idea?
If your diet isn't just cheese and bread, then the Pinot Grigio is the choice for you and your healthy salad and fresh fish. For real, though, that's the recommended pairing. We're sure it goes just as well with popcorn and ice cream straight out of the carton. Don't judge. Anyway, this Grig's profile includes "vibrant citrus and tropical fruit flavors." Another excellent selection.
If you love dessert wines or just any blend that's a bit sweeter than you'll want to grab a bottle or two of the new Moscato. "Delicate aromas and creamy peach and melon flavors make every day feel a little more special," the wine lovers at Target wrote about this blend. They suggested pairing it with "sweet, freshly picked berries."
Don't worry, lovers of reds — the mother of commerce and children crying in aisle four didn't forget about you. "Juicy cherry flavors, hints of oak and graceful finish elevate even the simplest pleasures" in the collection's Cabernet Sauvignon, according to Target. Like most reds, this one is recommended with a nice steak, a thick rib eye to be specific.
Last but not least in the California Roots line is the Red Blend. Sure, we would have liked to see more red options, but this is Target's first shot at $5 wine, so we're willing to overlook it. According to the mega store, this blend is made up of "smooth berry and cherry flavors with hints of spice offer the perfect antidote to the workweek." The recommended pairing is wild mushroom pasta and grilled vegetables, but it's sure to complement a pizza as well.
Sadly, some Target locations don't carry any wine. It's true. There are poor souls scattered across the country who don't get to experience the beloved mega store in all its glory.
For those of you lucky enough to live near a Target that sells booze (me!), pick up a bottle from the California collection starting Sept. 3.