Target's New Opalhouse Home Decor Collection Is What Dreams Are Made Of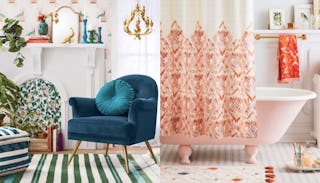 Image via Target
The pieces in the Opalhouse will be on everyone's list of must-haves
Hold onto your wallets, people. Target is introducing a new decor collection that will have every single person flooding into their stores and onto their website this weekend.
The discount retailer or "home away from home," as many of us like to call it has come out with an awe-inspiring new line called Opalhouse and you're going to want all of it. The 1,300 piece collection includes bedding, bath, home decor, and furniture made with bold colors, sophisticated design, and layers and layers of texture.
"About 90 percent of our guests like to mix and match styles to create a personalized look within their homes, so in 2017 we set out to introduce a number of new brands with clear and distinct points of view that have the flexibility to work together," their site said. This included the cult-classic Threshold, Hearth and Hand with Magnolia, and now Opalhouse.
All of these items are to die for but none quite as much as this peel-and-stick peacock wallpaper so if you ever get sick of peacocks (as if), you can easily remove it. OMG, Look at it. LOOK AT IT.
Of course you'll need this, too:
And this:
If peafowls aren't your jam, there's a ton of other animal kingdom-inspired pieces to jazz up any room in your home. Rawr:
Opalhouse's debut comes on the heels of Target's Project 62 launch, the high-quality, lower cost option to West Elm. This collection strikes a more similar comparison to Anthropologie, minus the nightmare-inducing $400 headless hare lamp. I think I speak for everyone when I say thank you for that, Target.
These are definitely statement pieces that will give any home a pop of personality. "A brand centered around the eclectic aesthetic," the collection features more of Target design team's original artwork than any before it, inspired heavily by their travels to Paris, Lisbon, and Mallorca.
"I think there's trust that's built with the guest when you know what you're going to get, but you still have to keep that excitement," Target's chief merchandising officer, Mark Tritton, said. "That's why we don't just have one big brand; we're creating all these different personalities. It's kind of a friend cluster, if you will, and guests can interact with any or all of them."
The collection is also one you can indulge in without breaking the bank. Items range from $2 to $550, with most pieces coming in around $30 but with the amount of items I'm planning on purchasing, I'm not sure it really matters. Opalhouse will be available online and in-stores on April 8, so get ready.
This article was originally published on