Target To Limit Shoppers In Effort To Stop Spread Of Coronavirus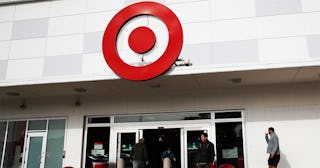 Justin Sullivan/Getty
In addition, Target will provide masks and gloves for all employees
Minneapolis-based retailer (and our home away from home) Target announced this week that it will be implementing new safety measures to help prevent the spread of the coronavirus — limiting shoppers allowed in its stores and providing non-surgical masks and gloves to all employees — nationwide.
Beginning Saturday, April 4, it "will actively monitor and, when needed, meter guest traffic in its nearly 1,900 stores nationwide to promote social distancing," it said in a press release. The numbers will vary by store size and will allow Target "to enhance the average space per person and reduce the possibility of congestion," the retailer said.
In addition to social distancing measures, Target will also provide "non-surgical face masks and gloves for team members to wear on the job," saying in part, "We're incredibly proud of the commitment our more than 350,000 frontline team members have demonstrated to ensure millions of guests can count on Target, and we'll continue to focus our efforts on supporting them."
In past weeks, Target reduced its store hours and all stores are now closed by 9 p.m. local time nationwide. The company rolled out a dedicated shopping hour to vulnerable guests on Tuesday and Wednesday mornings. That time also allows employees to shop on their own for household supplies and groceries, saying in part, "This is a recognition of our team's incredible dedication, and our commitment to help all families."
Beginning Saturday, if a store needs to limit the number of guests, there will be a "designated waiting area outside with social distancing markers," to help organize shoppers.
"The measures we're announcing today are aimed at ensuring we are creating a safe environment for the guests who continue to turn to Target, while also providing our team with additional resources as they fulfill an essential service in communities across the country," John Mulligan, Target's chief operating officer, said in a statement.
In addition to equipping its teams, Target is supporting its communities with supplies as needed. "On top of Target's previous donations of anti-viral and N95 respirator masks to first responders and healthcare professionals at more than 50 organizations across the country, we'll also donate an additional 2 million KN95 respirator masks to the medical community. And we'll continue to explore ways to secure additional inventory for those in critical need," it said in a previous press release.
According to Johns Hopkins, the current cases of coronavirus in the US are over 258,000 with 6,600 dying from the virus as of this morning. With experts saying we won't see the virus' peak cases for several weeks, stores like Target and others are leading the way to help prevent the spread and flatten the curve.