Target Now Sells Matching Family Outfits And We Want Them All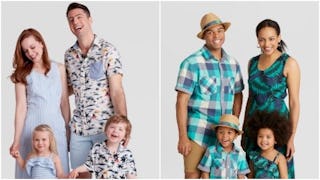 Image via Target
Get your wallets ready, because Target's latest family line is a must-have
Pinterest-inspired matching family outfits are so yesterday. Now if you want to step up your family photo wardrobe game, you need look no further than everyone's favorite store: Target.
DUH.
Just in time for those summer vacation photo ops, Target has released the most adorable new line of matching family outfits. They're part of the Genuine Kids line from OshKosh, and the clothes are so cute you're going to have your Red Card out and ready to roll before the end of this post.
Gone are the days of "Okay, everybody wear a white t-shirt, jeans, and bare feet" family photos. Because these outfits are actually cuuuuuute.
Have you ever seen a more adorable family ensemble? I mean, come on. The prints, the colors, the coordination — it's to die for.
Yes, that's a mommy and me pinstripe cotton jumpsuit combo. These outfits are similar to what I always pictured my family life would be like in my head — you know, before actually getting married and having kids.
These jumpsuits make me want to ride a banana seat bicycle to the local farmer's market and buy my daughter a candy apple.
Name a more iconic duo, I'll wait.
There's also plenty of other options for fashionable family wear in the new line if jumpsuits and dresses aren't your family's jam.
Like these colorful bathing suits that are basically designed to make a splash both in the literal sense and figuratively.
What's not to love about this summery blue and green buffalo check button-down?
This shirt is so nice they designed it twice — one for grown-ups and one for the littles. The best part about these clothes is that most of the items are incredibly versatile and can work for boys and girls. I know my toddler actually loves wearing the same colors and similar styles as her daddy, so I would 100% snatch up this shirt for both of them.
As with anything Target-related, all items are just as affordable as they are adorable. They range in price from $11.99-$27.99, and there's plenty to choose from.
Gone are the days of family outings and photo sessions that look like this:
Or this:
Because Target is here to keep families everywhere current and cute AF.