Target Is Opening A Store With A Bar In It, Dreams Do Come True
by Maria Guido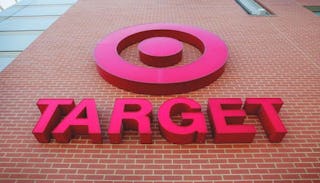 CHICAGO - JULY 18: A sign is seen on the exterior of a Target store July, 18, 2006 in Chicago, Illinois. Heightened concerns that energy prices are slowing consumer spending helped to drag shares of Target down today for their biggest one-day percentage slide in eight months. (Photo by Scott Olson/Getty Images)
Target is rumored to be opening its first store with a bar in it. Dreams do come true.
Everyone's favorite paycheck-suck developed a new concept for city stores last summer: TargetExpress. The stores are smaller and geared toward "quick-trip" shopping. In addition to paring down to essentials for quicker shopping, the stores offer a bunch of grab-and-go food like ready-made sandwiches and salads. They of course contain a Starbucks, and if the rumors are true, the new TargetExpress opening in October in Chicago will also have a bar. The location has applied for two liquor licenses: one to sell packaged liquor, and one to serve alcohol on-site.
A quicker shopping experience, cafe-style food and a bar? Oh please let this concept work and spread. Please. The crowded aisles of Target would be infinitely more tolerable after a glass of wine. This is a no-brainer.
For some of us, the only alone time we get is when we shop. That's why some parents cling to their Target trips like a damn life preserver. If you pay attention next time you're in a Target, you will begin to notice some people – pushing their carts slowly with a far away look in their eyes. Those people are parents. And that time in Target may be the only time that week someone wasn't asking them for something. Oh my god, give that person a drink, Target. For the love of god and all things holy.
Target reps have yet to confirm the rumor, but the liquor license application is pretty telling. Testing the concept in city stores makes sense, because anyone who has to endure a trip to Target without a car deserves a reward. Let's just hope the concept is a win and the company branches out to those of us stuck in suburbia, too.
It's a little disturbing that I gleefully give this company about 30% of my paycheck every month, but this news makes me so happy.
Take my money, Target.
This article was originally published on