Your Cat Might Actually Like You If You Buy Them This Mini Haunted House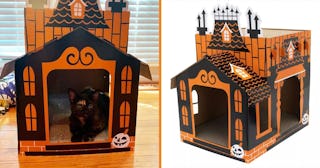 Molly Barnes and Target
These mini haunted houses for cats will help your scary kitty get into the Halloween spirit
Halloween is kind of a big deal for cats. Well, mostly for spooky black cats that accompany witches on their broomsticks, but still — cats are kinda scary, no matter their color, and they deserve the proper surroundings as we head into the scariest month of the year. Enter Target, our home away from home for all things seasonal and otherwise.
According to Target, their cardboard mini haunted house is the purrfect place for your evil kitty to spend the weeks leading up to Halloween. "It's a spooky chateau for your favorite cat (black or otherwise) – just in time for Halloween! Frightful and delightful, the Deluxe Haunted Mansion from Boots & Barkley™ is where your pet will be wanting to spend all her time."
Super cute, right? What's even cuter is seeing it with a fluffy friend taking up residence inside. That's right — a number of ghostly cattos have already started popping up on the 'Gram getting nice and cozy in their new digs.
Of course, this is not just a ranch-style kitty house, it's got a second level so your cat can look down on their kingdom. "It's two stories of entertainment, with a spacious cove on the bottom complete with scratch pad built into the floor. The perfect perch to keep an eye on the room is up above."
https://www.instagram.com/p/B2o24t3n9b8/?utm_source=ig_embed
And because Target knows us better than we know ourselves, they've made sure it won't take forever to set up. "Even better, the entire set assembles in just a few easy steps. The only thing not included are spirits to haunt the place, but your cats will have a scary amount of fun nonetheless."
https://www.instagram.com/p/B2o24t3n9b8/?utm_source=ig_embed
Ok, so it's probably a good time to point out that this isn't just a cardboard box house for your cat to hang out in — it serves a functional purpose too. The scratcher floors on both levels are sure to make your kitty happy enough to stop glaring at you as though they're plotting your murder. At least for a few minutes.
https://www.instagram.com/p/B2pCNGgnfJJ/?utm_source=ig_embed
The best part? I mean, aside from seeing your frightening feline reigning supreme over their very own haunted house. It's only $17. Because Target loves us and wants us to be happy.
https://www.instagram.com/p/B2pCNGgnfJJ/?utm_source=ig_embed
One might say this is money very well spent.
https://www.instagram.com/p/B2uNRDhBEUK/?utm_source=ig_embed
Now the only thing left to do is pick out a super embarrassing costume for your Halloween kitty that will make them hate you even more than usual.