Target Is Selling M&M's By The Bucket, So Life Is Officially Good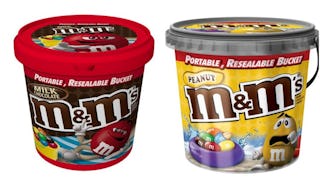 Image via M&M
Target is selling buckets of M&M's. Dreams really do come true sometimes
Massive amounts of candy might not make everything in your life better — but it's definitely a very, very good start. Buckets (seriously, buckets) of M&M's are now being sold at Target, which means that your movie theatre experience is about to get a whole lot sweeter. Also, your car rides. And your afternoon snacks. And your late night snacks. Basically, every facet of your day-to-day schedule.
Here's the deal. You can now buy bucket-sized M&M's in both regular and peanut flavors. That's 32.5 ounces of candy, which is the equivalent of 19 regular bags of M&M's (thanks to Delish for the problem solving). They're resealable, which is super handy dandy and will probably encourage to you stash the bucket away before you feel physically ill. Also, the packaging is pretty sweet and they clock in at a reasonable $8.49 per bucket.
If you're currently feeling overwhelmed by delight, intrigue, and nerves (that's just so much candy to conquer) – you're not alone. Comments on Instagram ranged from the positive ("what a time to be alive") to the skeptical ("straight dangerous"). Either way, everyone was pretty much in agreement that they can and will be devouring the entire contents of these buckets. It'll be a long, long journey, but worthwhile.
Thankfully, this isn't the only good news on the M&M's front. The candy company is also introducing three brand new flavors: Crunchy Mint, Crunchy Raspberry, and Crunchy Espresso. You can try each of the options, and then vote for your favorite one. The winner will be announced in August, and it's probably not too outlandish to request that they debut a combo of all three in a bucket. Right? Right.
https://www.instagram.com/p/BhZG3D8Dc0x/?utm_source=ig_embed
Here's to life being a little bit sunnier thanks to new M&M flavors and just so, so many buckets of candy sweetness.