Target Has A New Line Of Woman-Empowering Clothing -- And It's Gorgeous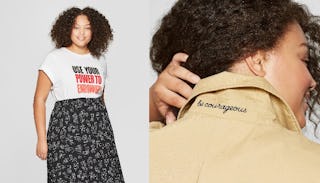 Image via Target
Target and Vital Voices have come together with a clothing line inspired by women leaders
Another day, another reason to just direct-deposit our paychecks straight to Target. The retailer has partnered with an organization called Vital Voices on a line of clothing and accessories meant to celebrate women in all of their amazingness.
Honestly, just take my debit card now.
The line debuted on September 29th and features gorgeous pieces that, according to Vital Voices, "are inspired by Vital Voices' mission to elevate women leaders and six women leaders in the Vital Voices network who are raising their voices to bring about positive change in the world." It's called the New Day + Vital Voices collection — and it's pretty much everything.
An adorable sleeveless trench also features a message of empowerment tucked neatly behind the collar.
And this amazing t-shirt that comes in plus size. In fact, the entire collection does.
There's cute skinny jeans to pair with your empowering t-shirt.
Or perhaps that very stylin' moto jacket with a skirt is more your speed.
For the cold and casual Saturdays in your future, this sweatshirt is a must-have.
But not all the pieces carry a message — some are just flat-out fashionable and totally flattering. Like this classic print dress.
Which also comes in black — and plus sizes.
This red, pleated midi skirt will go with pretty much everything.
And feel free to finish off any of these gorgeous outfits with a trendy (but timeless) scarf.
The entire collection is available now both in stores and online, but only for a limited time, so go grab your faves ASAP.