Target Now Sells Vibrators Because It Truly Is The Happiest Place On Earth
by Cassandra Stone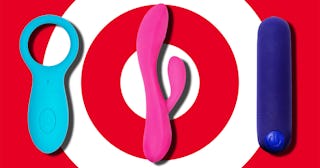 Target
We'll have what she's having — aka all of these vibrators available at Target
In case you needed another reason to love Target (and, let's be honest, you didn't because it's the best), they now sell plusOne vibrators in-store and online. How amazing is that?
Sexual wellness brand plusOne announced the decision earlier this week: "Americans are focused on self-care and self-love now more than ever. Whether it's for pleasure or wellness, certainly women deserve convenient access to high-quality, affordable sexual-wellness devices so they can own their sexuality," says plusOne spokesperson Stephanie Trachtenberg.
Read More: Amazon User's Vibrator Review Goes Viral
Even though we all go to Target for one thing and end up buying everything but the kitchen sink, many people feel the stigma surrounding sexual health products. Which is why it's convenient and downright considerate of Target and plusOne to allow us to browse around and shop for vibrators online, too.
Some of the plusOne products featured at Target include the Waterproof Rechargeable Dual Vibrating Massager:
This baby boasts dual motors with independently vibrating tips for "internal and external stimulation." There are 10 different vibration settings, too, so you can start out slow and, uh, go from there. It's waterproof, rechargeable (with each charge lasting up to three hours), and easy-to-clean.
Next up is the plusOne Waterproof Rechargeable Vibrating Bullet.
Like the dual massager, the bullet has 10 different vibration settings and is easily cleaned and rechargeable. It's also small and discreet, with "precise stimulation." It comes with a storage bag and a lithium-ion battery sleeve.
Finally, there's the Waterproof Couples Stimulation Rechargeable Vibrating Ring.
This vibrating ring also has 10 different vibration settings, is waterproof, hygienic, rechargeable, and comes with a storage bag. The snug-fitting ring also "enhances his size while adding sensual vibrations for both partners."
While the plusOne brand vibrators are incredibly popular for buyers, Target offers a whole line of different vibrators and adult toys under their sexual health category.
Though it can be a taboo subject for some, masturbation is a normal, healthy part of anyone's sexual life and no one should feel shameful or self-conscious about that. Plenty of women masturbate, even if we don't talk about it as much as men do.
According to Planned Parenthood, masturbation can be good for your physical and mental health. (Not to mention it's the safest kind of sex you can have!) When you have an orgasm, your body releases endorphins, which are hormones that block pain and make you feel good. The good feelings that accompany an orgasm can happen whether you're flying solo or enjoying sexual activity with a partner.
So next time you're perusing the Joanna Gaines aisle at Target (after buying toilet paper, new nail polish, an area rug, and two pairs of shoes — because that's how we all roll at Target), stop on by the vibrator aisle.
You'll be glad you did.
Read More: This Smart Vibrator Actually Tracks Your Orgasms
Hear what our real-life Scary Mommies, Keri and Ashley, have to say about this when they give their (always real) thoughts in this episode of our Scary Mommy Speaks podcast.
This article was originally published on