Target Recalls 560,000 Easter Toys Due To Serious Ingestion Hazard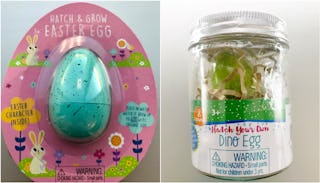 Images via U.S. Consumer Product Safety Commission.
Retail giant recalled Easter and Dino toys
Target is recalling about 560,000 water-absorbing Easter-themed toys to help children avoid swallowing the small trinket.
The retail giant sold the Hatch & Grow Easter Eggs, Easter Grow Toys and Hatch Your Own Dino at various locations across the country over the last few months leading up to the holiday. Most parents probably grabbed a few in Target's Dollar Spot area at the front of stores. The toys cost about $1 each. If you purchased the toys you should return it to Target immediately for a full refund.
While no injuries have been reported, the United States Consumer Product Safety Commission said: "If the small toy is ingested, it can expand inside a child's body and cause intestinal obstructions, resulting in severe discomfort, vomiting, dehydration and could be life-threatening. Surgery is required to remove the toy from the body if ingested."
A child swallowing a toy would definitely be a terrifying experience for the little one and their parents. What's even more alarming about this recall, though, is that medical professionals might not be able to see the toys on an x-ray. If you're worried your child ingested the toy and is sick from it make sure to communicate to your doctor that it might now show up via x-ray.
The Hatch & Grow Easter Eggs and Easter Grow Toys have model number 234-25-1200 on the back of the product's packaging. The Hatch Your Own Dino Egg has model number 234-09-0016 on the label inserted in the product's packaging. The pink, blue, or purple Hatch & Grow Easter Eggs have a white bunny, brown bunny, or butterfly. And the Easter Grow Toys have a yellow chick, brown bunny, or white bunny. The Hatch Your Own Dino Eggs are purple or yellow/green and contain one of eleven dinosaurs.
If parents need additional information about the recall they can call Target at 800-440-0680 between 7 a.m. to 8 p.m. CT any day of the week.