Target Recalls 120,000 Halloween Decorations
by Jerriann Sullivan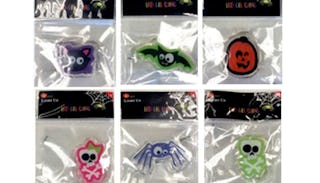 Image via Consumer Product Safety Commission.
Target recalls more than 120,000 Halloween decorations that could be joking hazard
After themed food, decorations have to be our favorite part of any holiday, especially Halloween. Before you go all out and turn your home into a haunted house, check to make sure your decorations aren't part of the massive recall Target began this week involving dangerous LED button batteries that should honestly not even be a thing anymore.
Target's refunding people who bought their Halloween-themed LED gel clings. "The gel clings can separate and expose the inner decal and LED/button battery compartment, posing choking and button battery ingestion hazards to children," the Consumer Product Safety Commission reported. Yikes. We definitely don't want out little ones (or anyone really) swallowing a battery. The clings come in six versions: black bat, green skeleton, pink skeleton, purple spider, orange pumpkin, and black cat.
The decorations were made to go on the inside of windows, which makes them easily accessible by children in many situations. We could easily see a youngster drawn to the blinking light inside the gel cling, too. Apparently, the clings separate easily making the dangerous stuff easier to get to for kids.
At this point, can we just say, "no thanks" to these LED button batteries? They're in every cheap and crappy kid toy and they pose serious hazards. According to the National Safety Council, the batteries can cause a wide range of injuries including getting stuck in the esophagus, where they can burn holes. The batteries can cause an electrical current in the body, and hydroxide, an alkaline chemical, can cause fatal tissue burns. These gel clings are not the first toy to use them and they won't be the last. But they should be.
Target says about 127,000 clings were sold between August and October of this year. Since they were only $1 we're not surprised so many were sold in just a few months. If you snagged some for your Halloween setup, you can return them to any Target store for a full refund. If you're not sure if your decorations are under the recall, look for model number 234-25-0904 printed on the gel cling's packaging.
So far no injuries have been reported, but Target started the voluntary recall of the product to protect consumers. If you have questions or concerns, you can speak to a customer service representative at Target by calling 1.800.440.0680. The company also posts recall information on its Facebook page.
It's also worth noting that gel clings like the ones Target recalled are sold all over the place. So if you happened to snag a similar Halloween decoration at another retailer, it's worth your time to check and see if those gel clings were also recalled.
[free_ebook]
This article was originally published on