Target Is About To Get A Complete Redesign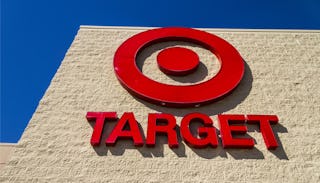 Image via Shutterstock
Target plans to redesign 500 stores over the next few years.
Target: it's where we all spend way too much money because we can grab wine, yoga pants, and diapers in one trip. Our beloved home-away-from-home is about to get a major makeover, so if you thought you couldn't love Target any more — think again.
Earlier this month, Target CEO Brian Cornell told a room full of retail executives that the company would start redesigning 500 stores. He called the project "the company's most ambitious store redesign to date."
About 300 million folks visit Target every week and the retail giant wants the stores to be better designed for them and their various needs. One big change is an additional entrance. According to Country Living, the second one will be for people picking up online orders. It'll also have space for groceries and a wine and beer shop. The idea being that a busy mom can swing in, grab her favorite Merlot and some milk before using a self-checkout lane. If your car is filled with screaming kids, you'll be able to place your order online and have a Target employee bring it to you because the second entrance will have its own parking spaces.
We have a similar set up in our downtown Seattle Target. While I understand its purpose, I find peace in strolling the long aisles then making small talk with the cashier. But that's the great thing about the redesign, stores will have both options. If you're in a real pinch, you'll also be able to pay for something when you spot a Target employee. You know how when you go to the Apple store the person that helps you also takes your payment? Well, it's going to be like that thanks to new tech that Target is giving to its team members.
As far as design elements go, the brand is going with a more modern look so wood paneling and concrete floors will be implemented. Aisles are also getting an upgrade, too, and will be more circular and curved displays for products. "Expect lots of flexibility, open sight lines and discovery moments throughout the store," Cornell said. The best part is that Target's starting with just 40 stores, opening in October, then getting feedback from us. We'll get to complain about the stuff we hate and rave about the design elements we love before Target moves along to the other locations.
This article was originally published on