Target's Selling Unicorn Ice Cream With Glitter Candy In It
by Thea Glassman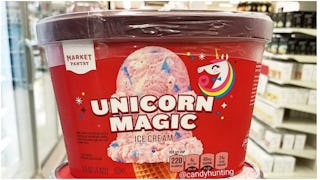 Image via CandyHunting/Instagram
Target's new unicorn ice cream is sparkly, glittery perfection
Let's be honest here. No matter how old any of us get, unicorns will never stop being the most mystical, delightful creatures out there — even though we know that they're (probably) not real. If you're really looking to up the golden horn magic in your life, please turn your attention immediately to Target's new unicorn ice cream. It has glitter in it. Enough said.
If you head to your local Target now, you'll find Unicorn Magic Ice Cream which — according to Popsugar — is made from "fruity pink ice cream with a sour blue raspberry swirl, frosting swirl, and glitter candy bits."
Candy that has glitter on it? Ice cream that's pink? Lots of swirls? WANT IT. NEED IT. RIGHT NOW.
I mean, helloooo gorgeous. Give me all the tubs.
This is fairly recent news so that means the reviews aren't in just yet on the ice cream's quality, but I think it's safe to assume that it tastes like magic, fairy dust, and childhood happiness. Plus, just look at pure wonder of what other unicorn ice creams looks like. This is the dessert we all deserve right about now.
If ice cream isn't your thing, but you'd really like some more magic in your life — never fear. There's plenty of other ways to live your best unicorn life, like this truly ginormous pool float:
This unicorn hot chocolate that literally looks like pure joy in a cup:
https://www.instagram.com/p/BN7HMqAgcMS/?utm_source=ig_embed&utm_campaign=embed_profile_upsell_logged_in_control
And — if you're feeling particularly crazy — straight-up unicorn toilet paper. We won't judge (well, maybe a little).
Now, go live your best life filled with rainbows, pixie dust and literally all the unicorn-themed merch you can get your hands on.