This Is Not A Drill: More Hatchimals Are Hitting Target Stores This Weekend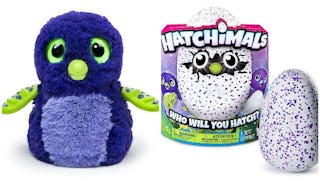 Image via Amazon.
More Hatchimals will be available at Target this weekend
Clear your calendar because the beloved Hatchimals that are nearly impossible to find will be available at Target this Sunday, December 11.
"Target stores across the country will begin to receive dozens of Hatchimals ($59.99), with inventory popping up throughout the week," reads a statement from Target. "You'll need to be quick to scoop these up (limit two per guest) while supplies last, so be sure to check your local store."
If you're thinking "what the hell and why" let me fill you in. Hatchimals are stuffed animals that come in an egg and "hatch" after 10 to 40 minutes. From there your kid "raises" the Hatchimal and teaches it to do a variety of things like walk, talk, and play games. I haven't met a Hatchimal in person, but judging by every other toy that makes noise and "grows up" I'm guessing it's fairly annoying. But still – kids love them. And even though there are several kinds of Hatchimals, word of mouth has spread and you can't find them at most stores or online.
If you want to pay a ridiculous amount of money there are some on eBay, where the lowest we saw one going for was $93. Most are currently listed at $100 or more. Ugh. It just feels like a ton of money for a toy we're pretty sure our kids will forget about before school starts again after Christmas. These bird-looking toys are so popular that the parent company that creates them, Spin Master, released this statement on their site: "The consumer response to Hatchimals has been extraordinary, exceeding all expectations. This is a special season and we don't want anyone to be disappointed, nor do we support inflated prices from non-authorized resellers. While additional product will hit retail shelves in December, we anticipate this inventory will also sell out quickly."
If you're hoping to snag one of the fuzzy creatures, you should probably grab the tent and set up camp now. We'd recommend sending your husband to another Target, too, since the retailer didn't name the locations that would be receiving the Hatchimals — just that they'd be spread across the country. If shelling out a hundred bucks or camping in the cold both sound like a nightmare to you then there are a few other options to keep your kids from losing their minds.
Target is selling Hatchimal-themed gift cards so you can wrap up a fancy IOU for when they're back in stores. But then, of course, you have to avoid going to Target with the kids until you know for sure they've loaded up on the damn things. You can also print out this festive letter from Santa that explains why a Hatchimal wasn't under the tree for your kiddo come Christmas morning.
Like any other trend toy our kids have to have, the only thing harder than finding a Hatchimal will be keeping our kids interested in it post holidays.