Target's 1-Day Gift Card Sale Is A Christmas Budget Game-Changer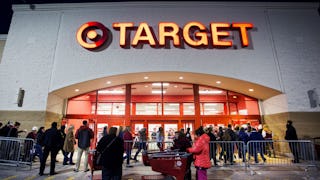 Image via Getty/Derek Davis
Target gift cards are on sale today — happy dance commence
Who doesn't appreciate a good gift card for the holidays? Sure, it's not the most exciting gift, but who the hell cares? It's free cash you can all spend on whatever your little heart desires. It's a win-win-win. And if there's one store that's a game changer over the holidays, it's Target.
In case you aren't picking up what I'm putting down — starting tomorrow, December 3rd, there is an actual sale on gift cards.
The Superstore of all Superstores is known for offering weekly deals near the holidays, but their gift cards are almost never available at a discount. But since we could all use a damn break, they decided to offer their gift cards at 10 percent off today only.
In case you need some fast math, if you buy a $50 card, you can get it for $45. If it's a $100 gift card you are looking for, you will pay a mere $90. If you purchase a $200 gift card, it'll set you back $180. OK, fine, you get it. But before we all lose our collective shit, there is a pesky $300 limit per customer.
Another great aspect to this deal? Whomever you gift the gift card to gets to use it beginning December 4th. That's right, it's the day after someone purchases it for you. Or the day after you purchase it for yourself because hellllloooooo, it's free cash and there's a hella lot of shopping to be done between now and Santa plopping his ass down the chimney.
But here's the best part: these little miracles are available online so you don't need to leave the comfort of your house, your pajamas, or your large Tupperware bowl of Honeycombs to get in on the deal. You can also get them in stores if you didn't bother to read the last sentence and are an overachiever.
And if all of this wasn't enough to make your turtle doves sing, the cards come in nine brand new designs to choose from. There are scratch-and-sniffs (think old school stickers, only better), a LEGO-inspired bullseye, and the Target bulldog smothered in Christmas lights. You really can't go wrong.
And if gift cards aren't your thing for the holidays, consider hoarding them for yourself for future purchases. Because you know you are going in there for a pack of chicken and a bag of apples and will eventually come out with $387 worth of new hand towels and a Roomba you never knew you needed.
Happens to the best of us.
This article was originally published on