Target Is Low-Key Selling The Cutest Harry Potter Merch Right Now
by Valerie Williams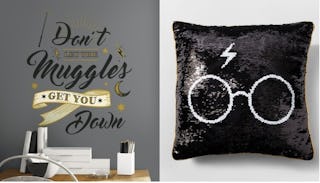 Image via Target
Head on down to Target if you want to outfit your home and wardrobe with all things Harry Potter
Target is quietly harboring around 500 adorable Harry Potter-themed products inside their hallowed doors right now and we're all just sitting here totally unaware. That's why I've gathered a list of the best HP items to be found at the Big Red Bullseye, and the best part? You won't need to spend too many galleons to buy it all because the prices are reasonable as heck.
The collection includes home decor items, cute clothes, and adorable tchotchkes that serve no real purpose but let's be real, this is Target. If every trip doesn't include at least *one* completely useless but totally fun purchase, did you even really go?
Let's start with the home items — and there's quite a few of them.
How have I gone my entire life with these extremely inspirational wall quote stick-ons?
Also, why don't I already have this delightfully sequin-y, double-sided pillow?
I need it to go with my nifty Hogwarts floor pillow. Obviously.
According to Dumbledore, the Mirror of Erised shows the "deepest, most desperate desire of our hearts" so I guess mine would just flash an image of a Target store and a pitcher of margaritas. Cool.
I would also like this ceramic bank in my home which will, ironically, remain eternally empty because Target exists.
OK, OK, enough house stuff. Let's move on to wearables, shall we? And what better way to start than a t-shirt specific to your Hogwarts house?
They have them all.
And obviously, these cute t-shirts are just begging for cute panties to go with them.
And these cute sweatpants and socks are just begging for a t-shirt and panties to go with them, OK you get my point, you could wear all Potter all the time thanks to Tar-zhay.
Now that you've spent all your money on Potter merch, here's a trophy, JK, it's actually a cool lamp and you need it. Sorry I've made you poor but at least your house looks cool and you're wearing Gryffindor undies.