Target Shoppers Can Make Reservations To Avoid Holiday Crowds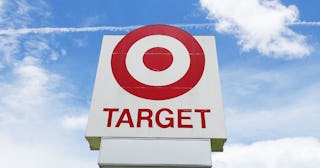 Joe Raedle/Getty
Target is rolling out new safety measures for holiday season shopping this year
As the holiday season rapidly approaches, Target is going to be ramping up the safety measures to protect shoppers during the pandemic. Because COVID-19 doesn't care how many gifts you have to buy this year, and we all know that holiday shopping in the US can get crowded and crazy. Fast.
Some of the new options for shoppers will make shopping more convenient for everyone. Target stores will double the number of parking spots dedicated to drive-up orders. Customers can check in on their phones and also check out on their phones, which will limit the number of people relying on the self-checkout scanners in the store.
Employees will be outfitted with handheld mobile devices to allow people to skip the line and pay for their purchases elsewhere in the store. You'll also be able to see if there's a line outside of your local Target store by visiting the website. This will also allow you to reserve a spot in line ahead of your visit. They'll notify you when it's your turn to shop.
Target CEO Brian Cornell says the store wants to stand out this year during the global health crisis by getting ahead of competitors by offering these safety measures and added convenience to the holiday shopping experience.
"We anticipate that our guests will visit our stores frequently this holiday season," Cornell said, per the Washington Post. "Many will do so to pick up their online orders from the comfort of their cars and many more will come to browse our aisles for holiday inspiration."
Many big box store retailers have altered their protocol to crack down on big crowds and offer as much distance and safety as possible throughout the pandemic. Curbside pickup and contactless checkout procedures have been adopted by stores like Target, Walmart, and more. A lot of stores have also canceled their big Black Friday shopping extravaganzas and will remain closed on Thanksgiving this year, too. Many are offering early deals online instead.
But offering reservations in line is a new one, and it's all Target. "Our teams have continued to innovate and iterate to make sure that Target is the safest place to shop as we go into the holiday season," Cornell said.
Target is giving stores 1,000 more mobile checkout devices across the country. It will add nearly 8,000 drive-up spots — and while the number of spots per store will vary, each store will be able to add up to 12 more spots.
With the economic crisis showing no sign of slowing down as COVID-19 numbers continue to spike nationwide, shoppers across the country are expecting to spend less money and visit fewer stores this year. According to Deloitte's annual holiday retail survey, the average household expects to spend $1,387 during the 2020 holiday season, down 7 percent from last year.