Your Target Grocery Trips Are About To Be A Lot Cheaper -- Thanks To Amazon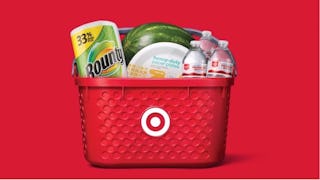 Image via Target
Target just lowered prices on thousands of items
Amazon buying Whole Foods is the gift that keeps on giving. Not only did our organic fruits and veggies get cheaper but now Target has lowered prices on a ton of groceries to compete with the retail behemoth.
Target has slashed prices for staples like cereal, eggs and milk. But they've also reduced prices on baby formula, razors, paper towels, toilet paper, and apparently much more. The decision was announced Friday in a press release that commented on the satisfaction that comes with finding a great deal.
"Sure, there's nothing like that victorious rush of nabbing a spectacular deal," the company wrote. "But having to figure out what 'As Advertised!' and 'Temporary Price Cut' mean or waiting for just the right sale to roll around can be, well … super frustrating." In an effort to eliminate that frustration, Target reviewed its various promotions and came up with better pricing on some everyday items parents always need.
"We've spent months looking at our entire assortment, with a focus on offering the right price every day and simplifying our marketing to make great, low prices easy to spot, all while maintaining sales we know are meaningful to guests," explained Mark Tritton, executive vice president and chief merchandising officer at Target. "We want our guests to feel a sense of satisfaction every time they shop at Target." Their new $5 wine collection already had us feeling pretty good about our home away from home. But now it seems we can add "super affordable groceries" to the list of reasons we love the store.
According to Tritton, Target is all about "removing the guesswork to ensure (customers) feel confident they're getting a great, low price every day." On a day to day basis, that means fewer signs for sales. "Say goodbye to all those little signs and ads letting you know about the 'Weekly Wow!' or 'Bonus Offer,'" the company said. "We've eliminated more than two-thirds of our price and offer call-outs so you can more easily spot the savings." But since Target would never do you wrong they will still be having big promotional sales once in awhile. On that they shared: "We're just making sure to offer only our best, most compelling sales—when it makes the most sense for our guests."