The First Images From Target's New Redesigned Stores Are Here!
by Christina Marfice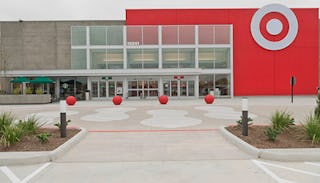 Image via Target
Believe it or not, there are some definite improvements to the new Target store design
If it ain't broke, don't fix it. Unless, of course, you're talking about Target, which is already the collective happy place of pretty much every American woman, yet, is somehow about to get even better.
Target is starting to roll out a redesign of its stores, and the first example of its "most ambitious" change just opened in a suburb of Houston, Texas. I have to admit, when I heard Target was shaking up its tried and true store designs, I was skeptical; how could the perfect store be improved, I wondered? But I kept an open mind, because the people who were capable of making Target into what it already was were clearly able to take a simple store and make it magic. And that's what they did.
The store makeover includes more windows, because, let's face it, natural light is something every Target could really use. There are also now two entrances — one for people making a quick stop and one for people who are ready to settle in and browse.
Inside the convenience entrance, guests will find a pickup counter for online orders, food and beverages, and more self-checkout lanes to make their trips quicker and easier. That means less of a chance that you'll do what we all do at Target: go there for toilet paper and leave with $300 worth of things in your cart, none of which is toilet paper.
Who knew produce could look so amazing? Target, that's who.
It looks so modern and beautiful we may have to move in. We've already contemplated that several times anyway, but now that it's even more inviting, we might need to follow through.
The "inspiration" side of the store, however, will look more like the Target we know and love today. Guests will be able to browse trendy homewares right inside the door.
And the accessories and apparel sections will be revamped, so instead of separating them, clothes, jewelry, hats, handbags and other items that coordinate will be displayed together in the store.
Many of the remodeled stores will have comfy nursing rooms for moms, which are obviously a 10/10 addition.
Praise Jesus, there's even new storefront parking that will allow guests to pick up orders made online without getting out of their cars. For those times when the baby is cranky and refusing naps and you're cranky and refusing real pants, this will be a complete godsend. Of course, we'll still have the option to browse the aisles happily and touch all the throw pillows, but this will undoubtedly come in handy on those harder parenting days.
Target has plans to invest billions of dollars in the next three years to bring these upgrades to over 1,000 stores nationwide. That's well over half of Target's 1,800 current existing stores.
Change can be hard to embrace, but in the case of the new Target, we'll be waiting with open arms.