These New Target Shirts Have Moms Everywhere Saying, 'Hell Yeah!'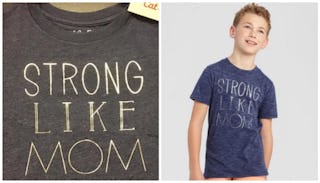 Image via Target
Target's new "Strong like Mom" shirt comes in both boys and girls sizes so grab your keys
The hypnotic bullseye we all adore just came out with another reason to fork over our wallets, this time on behalf of our kids.
Check out this new "Strong like Mom" shirt, and try not to sprint for your car (I couldn't, I ran to get mine already).
https://www.instagram.com/p/BQ4Fc9Lj_qR/?tagged=stronglikemom
The shirt is part of Target's new Cat & Jack kid's clothing line for spring, and is a great deal at $6 (though I snagged mine on sale for $5!) But it's not the price that makes this shirt so special. Shirts for kids with cute gendered catch phrases are nothing new. What makes this shirt a must have is how it's offered in both the girls and boys sections.
Finally, a piece of clothing that goes beyond the tired and boring stereotypes we've all seen a million times. Instead of a mother/son shirt with semi-romantic undertones like "Mommy's Lil Man" or a mother/daughter shirt that reaches for the played out "girls as princess" trope, here's a shirt that finally says what so many of us feel: Moms kick ass, and our kids know it, regardless of whether they're boys or girls.
https://www.instagram.com/p/BQmRK_TALLu/
While this is a great shirt for any mom to snag for her kids, it's especially awesome for single moms. There are so many shirts with sayings like, "Strong Like Daddy" or "Tough Like My Father" that single moms just have to leave on the rack. Not anymore. It's great that Target is acknowledging it's not just dads who have these qualities.
https://www.instagram.com/p/BQxzeNsjgQK/?tagged=stronglikemom
Yup, it comes in infant sizes too.
Here's our wallets Target. Just take it, take it all.
This article was originally published on