Why Target's Body-Positive Approach To Swimwear Is Important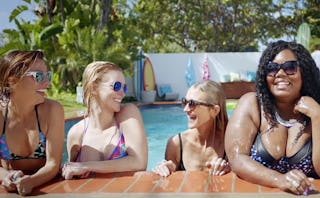 By now you've certainly seen Target's new swimsuit campaign and its accompanying behind-the-scenes video featuring "real" women in a variety of sizes and shapes, all looking beyond phenomenal in suits chosen to show off their best points and hide their trouble spots. As any woman who's ever had a meltdown sprawled on a heap of Liz Claiborne swimdresses and braless Calvin Klein maillots in a Macy's dressing room can attest, Target's compassionate, body-positive, money-where-its-mouth-is marketing is way overdue. Never mind that this campaign represents a major 180 for Target, whose Thigh Gap Scandal of 2014 is still fresh in shoppers' minds, or that this is the same company which famously conflated pregnant with plus-size the same year.
No, the new Target swimsuit line is important because unlike a Dove ad in which gorgeous women of varying sizes move us to tears by confessing they don't feel beautiful, Target is actually advertising—and one hopes, selling—a product that has the potential to actually make women more confident in their skin. While I'm as much a sucker for the Dove ad with the sketch artist as the next body-dysmorphic woman, I can never shake the feeling that Dove is manipulating my emotions so I will associate their brand with the feminist ideals I believe in. I can't help but suspect they're trying to forge an intimate bond with me so I'll choose their Purely Pampering Coconut Milk Beauty Bar over Ivory the next time I'm in the drugstore. (I worked for several years in beauty advertising, but you don't need to have seen the inner workings of an ad campaign to be suspicious of brands preying on consumers' insecurities.)
© gocomics.typepad.com
I'm under no delusions that Target cares more about my self-esteem than it does its bottom line, but when a retailer this large and powerful comes forward and says what we've all been grousing about for years—namely that for all the lip service designers pay to clothing "every woman," we've progressed not at all beyond the Cathy cartoons yellowing on our moms' refrigerators when it comes to trying on bathing suits—I feel a tiny bit hopeful. When a "masstige" department store like Target goes beyond "We carry sizes up to 24 (online!)" in an effort create a body-positive marketplace for women, we can reasonably hope that the shops at the mall and the chichi boutiques will soon follow.
So, to every woman who has ever spent the last four days before a beach vacation frantically ordering and sending back the entire Lands' End catalog in a search for a semi-flattering suit, let us rejoice that a store with sometimes-decent prices and convenient locations actually seems to get it. Let's hope the suits are actually as good as they look in the video, that designers will soon realize that a shelf bra is not a reasonable support situation for any woman larger than a B cup, and that within our lifetimes (and certainly our daughters' lifetimes), we'll see the day when tears in the fitting room are once and for all relegated to the bargain bin.
This article was originally published on