Target's Selling Wine Cooler Fanny Packs Now Because YOLO
by Valerie Williams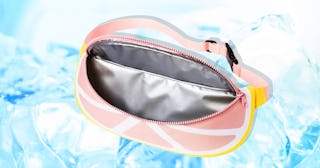 Target and it's me neosiam/Pexels
Target has super cute wine cooler fanny packs so this can be your most extra summer yet
All over the country, school's out for summer. Moms everywhere are rejoicing the end of checking folders, scrawling their names on permission slips, and finding rotten bananas at the bottoms of backpacks — until a few months from now, that is. That means it's time to celebrate — and what better way to do it than pulling a cold wine from your physical person and toasting to another school year done and over?
Target has you ready for both the toast and that first whiny "I'm borrrrred" of summer with these adorable and extremely handy wine cooler fanny packs.
It comes in this pretty mermaid-y pattern.
Or this super cute grapefruit motif.
Look at that very functional insulation to keep your rosé all day.
To be fair, Target doesn't actually claim that wine chilling is the given purpose of this item, but WTF else will we keep in there? Cut up grapes? Oh hell no. Fermented ones only please.
They did try though. "This insulated fanny pack provides hands-free convenience when on the go — you can stash a sandwich and clementines for an outdoor lunch, or a small can of lemonade, some slices of jerky and a baggy of sliced fruit for a quick snack." LOL. Sounds good, Target.
Sorry, but I did the actual math, y'all. A 750 ml bottle of wine is just under 13 inches tall — and this insulated fanny pack is the perfect size to hold all that junk in your front trunk.
Now, I'm not remotely suggesting that any mom should drink to handle the stresses of parenting. But isn't time spent by the pool a little bit nicer with some ice-cold white wine that you can whip out on a moment's notice? I'm just sayin'. It's not the worst idea to bring a little chill to a stressful summer day of momming, or to bust out that bottle to surprise your mom friends at the neighborhood splash pad. We deserve this.
Of course, you are by no means limited to standard-size wine bottles. Get creative here. You can stick in pouches of wine or even a home-made concoction of some kind in your child's soccer water bottle. We're not here to judge, only to make suggestions.
Make this summer your best and most functional ever — and the best part? Other than the wine-at-the-ready? Each fanny pack is only $6, so you can buy for all of your stressed out mom friends too. Happy chilling!