Target's Adorable Halloween Ad Featuring Girl With Disability Goes Viral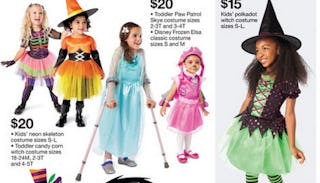 Target received a standing ovation earlier this year when they decided to do away with gendered signage in their toy section, and now they're being applauded again for including a kid with a disability in their latest ad.
The retailer's most recent Halloween advertisement features an Elsa costume modeled by a little girl who has leg braces and arm crutches. According to Jezebel, the ad started getting attention over the weekend when it was shared on Facebook by Jen Kroll, a mom whose daughter has arm braces and prosthetic legs.
Since Kroll posted the ad, it's been shared over 5,000 times and many have tweeted at Target to express gratitude for their representation of kids with differing abilities. One woman wrote, "Shout out to Target for including a child with a disability in their Halloween ad," and hashtagged her post #RepresentationMatters.
Target's social media rep responded to many of the posts, thanking them for their praise and saying the company tries hard to make their ads representative of all their customers.
According to Mashable, this isn't the first time Target has focused on representation in its products and advertisements. A weekly ad in 2012 also featured a child with Down Syndrome, and last year Target collaborated with plus-sized fashion bloggers to revamp their plus-sized clothing line and corresponding promotional materials.
As Kroll and others have pointed out, media representations like this one help to normalize disabilities in kids and increase peoples' knowledge of different types of disabilities. It's become second nature to notice when an ad doesn't feature women or people of color, but there are still many communities that get left out of popular media. Their experiences matter, and their communities greatly benefit from the increased awareness and understanding media representation promotes.
Kroll's daughter is likely not the only child who will "flip" when they see the ad, and it's awesome to see Target make such a simple gesture that helps kids with disabilities feel included. The company is clearly working to establish itself as a leader in catering to an increasingly progressive and diverse customer base. Hopefully other stores we love will follow in their awesome footsteps.
This article was originally published on