Target's Car Seat Trade-In Program Is Baaack!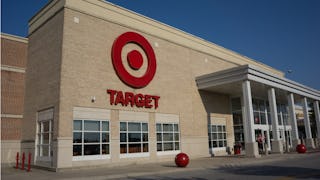 Image via Shutterstock
Target's popular program is back for a limited time
Last spring, Target offered a trade-in program for used carseats. It was so wildly popular that the retail giant is bringing it back for a limited time this fall — and if you're in the market for a new carseat you'll want to get in on this.
"From Sept. 10 – 23, most Target stores (excluding small-format stores) will accept car seats to be recycled," a press release explains. "In turn, guests will receive a 20 percent off coupon, good for the purchase of a new car seat, including booster seats, car seat bases and travel systems."
The seat doesn't need to be defective or old — you can bring in literally any seat to recycle and walk away with a discount on a new one. "Whether it's too small for your growing tot, too old or simply time for a new model, Target will gladly take it off your hands…again," the press release reads.
Of course, the benefits of this offer for us parents are obvious — if your kiddo's seat is too small or won't fit in a new vehicle or is covered in surprise barf from that ride home from Nana's house and smells vaguely of hot garbage, you can get rid of it. The benefits to the environment are a very happy bonus.
Michelle Wlazlo, senior vice president of apparel and accessories at Target, explains how helpful this trade-in program is for mother earth. "After collecting more than a million pounds of car seat material to be recycled from the program in April, we're excited to be bringing this amazing program back," she says. "We're always looking for ways to make the lives of our guests easier and we're proud to be able to help them reduce household clutter in a responsible and environmentally-friendly way."
So we can get the puke seat off our hands, receive a discount on a new seat to replace it, and do something good for the planet, all at once? Sign. Us. Up.
The trade-in is happening from September 10-23 at Target stores, but you'll have until October 7 to cash in that 20 percent off coupon. Happy (and safe!) car seat shopping.
This article was originally published on