You Can Now Turn Your Kid's Drawings Into The Most Amazing Jewelry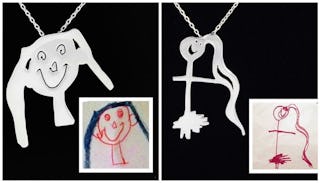 Image via Instagram
This company turns kid art into amazing keepsake jewelry
Kids love drawing pictures but, let's be honest, not every drawing is a keeper. Some of them are pretty special, though, and that's why one company has created an ingenious way to memorialize our favorite kid art.
Tasarim Takarim is a Turkish jewelry company that specializes in turning adorable kid drawings into wearable pieces. They've been around for about two years and make handcrafted bracelets, necklaces, earrings, key chains, and cufflinks. Parents provide a drawing, and then artists hand cut the piece from silver or gold-plated silver to make the most adorable, creative custom jewelry we've ever seen.
Like, for instance, this little owl that couldn't possibly be cuter.
A princess fit for a royal ball — or, just to jazz up your boring work outfit.
This matching earrings and necklace combo, to really show your dedication to your child's masterpiece.
And, this dog. My god, how cute is this dog? I want one, and that's not even my kid's drawing.
Yasemin Erdin Tavukçu, one of the company's co-founders, tells the Huffington Post the pieces usually run anywhere from $125 to $195, depending on what they're making. It takes about a week to make each one, because they're fully customized to each customer's specifications. "Every drawing is unique," she explained. "So their application solutions and their techniques are also unique… It's like a single moment of someone's childhood becomes timeless."
The pieces obviously make great gifts for parents, but they'd also be a really sweet trinket for an aunt, uncle, grandparent, or teacher. Plus, they have the added bonus of being sort of a gift to the little person that created the artwork too. As Tavukçu told the Huffington Post, "When kids see the jewelry, they become so proud of themselves and feel very happy. They feel so self-confident. They really believe that their art is loved and appreciated by others."
There are a lot of ways to pay tribute to our kids — tattoos, photos, handprints, etc. — but few are as unique and, dare I say it, stylish as these little wearable works of art. If you've got a pile of kid drawings at home (we know you do) you might want to pick your favorite, check out the website, and start dropping hints about your next birthday, anniversary, or holiday gift right now.
This article was originally published on