Son Defends His Nurse Mom's Tattoos In Viral Post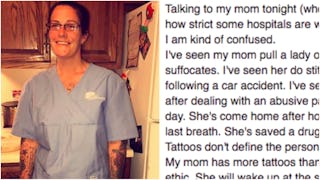 "Tattoos don't define the person"
Misti Johnson has a lot of tattoos. Her gorgeous artwork isn't the kind that can easily be hidden without a long sleeved shirt. "We all have a history," the registered nurse and mother of three from Carrollton, Ohio tells Scary Mommy. "But I tend to wear mine on my body."
Recently Johnson was talking with her 21-year-old son, Jordan Miller, about how many hospitals have policies forbidding nurses from having visible tattoos. The idea that someone could be viewed as less competent because of their body ink didn't sit well with Miller, who knows exactly how great his mom is at her job. "He has seen me in action," Johnson explains. "He knows where my heart is. He knows the person I am. And my tattoos don't define me as a nursing professional." Frustrated with the judgment inked nurses can receive, Miller took to Facebook to write a glowing tribute to his tattooed mother and her dedication to her work.
"I've seen my mom pull a lady out of a car before it fills with smoke and she suffocates. I've seen her do stitches on an injured person on the side of the road following a car accident," he wrote. "I've seen her come home after a 12-hour shift, dead tired after dealing with an abusive patient all day, and get back up and do it again the next day. "
Miller's not in the medical field, he works for local news station WTOV 9. But he shares his mother's passion for wearable artwork and has a full sleeve and a quarter sleeve of his own. He goes on to explain that the number of tattoos on someone's body says nothing about their ability to do their job. "Tattoos don't define the person," he wrote. "My mom has more tattoos than I can count and it has never, ever affected her work ethic. She will wake up at the same time everyday and save a life."
While some people deliberately choose to get tattoos in locations where they can easily cover them, Johnson is proud to display the pieces of art that she feels tell her life story. "One represents my abusive relationship I was in for 12 years. Another represents how lucky I am to be alive after a motorcycle accident that probably should have killed me two years ago," she explains. "I have family tats with my son and daughter. My children's names are also tatted on me. And I have three nursing tats that represents my passion." When she got married this past April, she wore a beautiful strapless gown that showcased her tattoos.
Johnson says she's been fortunate that her tattoos have never been an issue at the hospital where she works. "I've never had any problems with my tats at the hospital I work at," she explains. In fact, she says her full sleeve tattoos actually come in handy during her shifts as a way to bond with patients. "My patients love them and they ask me about them constantly. They are great starting points for a suffering patient who doesn't know which way to turn at times. They ask about my story behind them. When I tell them my stories it starts a conversation that builds trust within a nurse patient relationship and they realize that I am human just like them."
Johnson and her son have a special bond. He helped support her and his siblings through a traumatic brain injury in 2008 and has watched her work hard for the career she has today. "I graduated as Valedictorian with honors of my LPN nursing class. In RN school I won the Spirit of Nursing award for being a patient advocate," Johnson says. "It took me 18 years of schooling at my own pace to get where I am today. And through it all, he has been my biggest supporter."
Since it was posted, Miller's ode to his mom and her ink had been shared over 115,000 times and received over 177,000 reactions. Many people with tattoos relate to the fact that choosing to decorate your body someplace visible has zero impact on your ability to do your job, and do it well. Johnson says that while the outpouring of support has been amazing, there are still those who make negative assumptions about her because of her tattoos. "It's obvious that some people still are living in the old time day of what a perception of a woman should be or look like in this career choice of mine," she says.
But she's a nurse first and foremost, that's what matters. "When it comes down to it, even those who are judging me based on my appearance would want me to save them or their loved one if they needed CPR," she says. "The last thing they would be worried about would be if the person saving them has tattoos."
This article was originally published on