The Tax March Is Happening On April 15. This Is Why I'm Going.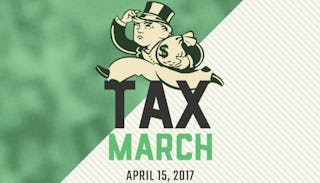 facebook.com/taxmarch
Another lifetime ago, when I was 28 years old, I was the plaintiff in a small claims court case against the Oregon Department of Revenue. The department thought I owed it money for a time that I'd been living and paying taxes in California. I represented myself, using my Los Angeles apartment lease and Hollywood library card to prove I'd been there. The Department of Revenue agreed I was a part-year resident and recalculated my tax. I no longer owed Oregon $527, a significant amount given what I earned at my job in a stationery store on Melrose Avenue.
Nowadays, people hand over good money to "online reputation management" companies in order to bury any mention of personal litigation, even when the issue is fairly benign or the outcome is positive. I've never tried to obscure my particular case for one simple reason: When it comes to my taxes, I have nothing to hide.
If only the same could be said for the president of the United States.
On Saturday, April 15, I'll be joining the Tax March in my city, one of 150 protests around the country calling upon President Trump to release his tax returns. My motivation for being there is rooted in both national and local politics.
President Trump is the only major-party nominee to refuse to release his tax returns in almost four decades. Last year, candidate Trump told voters he couldn't — and wouldn't — do it because he was under audit by the IRS:
Apparently, no one is more insane than Warren Buffett, the Sage of Omaha. During the presidential campaign, the investor — who's pledged to give more than 99% of his multi-billion-dollar fortune — made a point to release his own returns while being audited. Buffett wanted Americans to see Trump's audit excuse as just that — an excuse.
Last month, investigative journalist David Cay Johnston managed to get ahold of Trump's 2005 return and shared it with Rachel Maddow at MSNBC, revealing that Trump significantly cut the amount of taxes he had to pay by taking a $103 million write-off.
It could be that the rest of Trump's returns would disclose a perpetually low tax rate. It could be that they'd expose something far more nefarious: investment ties to Russia which he's repeatedly denied. It could also be that Trump's returns contain nothing interesting at all. We won't know until we see them — and Americans deserve to see them.
In addition to the national importance of the day, I'm joining my local Tax March because it builds on the activist power of the Women's March:
The three lead organizers of the Tax March where I live in Portland, Oregon, have never done anything like this before. Ben, Robin, and Elizabeth — a tech guy, a former teacher, and a bookkeeper — volunteered because Trump's election shocked them into action. They're joining Tax March organizers around the country from New York to Chicago to Covington, Georgia, population 13,452. These aren't paid protestors: These are our friends, our family, and our neighbors, giving every scrap of free time they have trying to shine a light on secrecy.
Collective hunger for the President's tax returns unites us across more than just miles. As a Palauan-American, I'm one of the 84% of people of color who think he should publicly release them. We share this desire with 94% of Democrats and 36% of Republicans.
If you think it's important for the president of the United States to show us his tax returns, you're already automatically part of this movement — no caveats. We'll be marching together on April 15. Come join us.
To find your local Tax March, visit www.taxmarch.org.
A version of this essay was originally published in the Portland Tribune.
This article was originally published on