Casting For New 'Cats' Movie Has The Internet Freaking Out
by Thea Glassman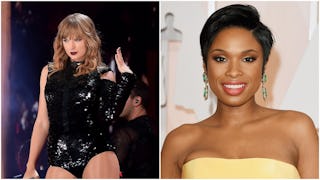 Image via Kevin Winter/Getty/Jason Merritt/Getty
Taylor Swift, Jennifer Hudson, and Ian McKellen have been cast in a movie version of Cats and the internet can't deal
We didn't knew that we needed a movie version of Cats in our lives. But now that musical is officially heading to the big screen — with an incredible star-studded cast no less — I honestly don't know how we've lived without it (especially if it turns out to be really, really weird). Put on your furriest feline ears, Jellicles, because this is gonna be a wild ride.
The Andrew Lloyd Webber classic is starting production in November and stars…deep breath here…Taylor Swift, Jennifer Hudson, Ian McKellen, and James Corden. If that's not enough glitzy star power for you, the film is also written by Lee Elliot (Billy Elliot) and will be helmed by Oscar-winning director Tom Hooper.
No word yet on who Swift, McKellen, and Corden will play, but Variety confirmed that Hudson has been cast as Grizabella, the cat who belts out the hit song "Memory." It's been awhile since we've seen Hudson on the big screen, but I have a strong, strong feeling that she will slay that number just as much as hard as she slayed "And I Am Telling You."
The internet had some ~feelings~ about this casting news. Some people were super into it. Some people didn't want a movie version at all. And some people were…um…just kind of perplexed by the whole thing.
For those who you who don't totally get what the whole hubub is about, Cats is one of the longest running shows on both Broadway and the West End. It's based on T. S. Eliot's Old Possum's Book of Practical Cats, and revolves around a junkyard filled with cats. They call themselves the Jellicles, and they're all gathered together for the annual Jellicale Ball.
Some of the colorful cast of characters include: Skimbleshanks (the cheerful one), Old Deuteronomy (the wise one), and Rum Tum Tugger (the showboat).
Given the enormous success of past stage-to-screen musicals (Les Miserables, Rent, Mamma Mia), there's a good chance that we've got another hit on our hands. Plus, anything to see Sir Ian McKellen in a cat suit, right?