Taylor Swift Gets Emotional Onstage One Year After Sexual Assault Lawsuit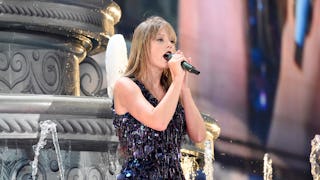 Image via Kevin Mazur/TAS18/Getty Images for TAS
Exactly one year after victory in court over the man who assaulted her, Taylor Swift emotionally thanked her fans
It's hard to believe it's already been an entire year since Taylor Swift went to bat for women everywhere, suing a man for sexually assaulting her and asking the court for nothing but a symbolic $1 award. On the one-year anniversary of that court victory, Swift was performing in a sold-out arena, where fans held up $1 bills in the crowd while she tearfully thanked them for their support.
"A year ago, I was not playing a sold out stadium in Tampa," Swift said from behind the piano, playing soft chords while she spoke. "I was in a courtroom in Denver, Colorado."
Swift became visibly emotional as she continued.
"I was there for a sexual assault case, and this day a year ago was the day that the jury decided in my favor and said that they believed me."
Fighting back tears, she added a heartfelt message to other survivors in the crowd.
"I guess I just think about all the people who weren't believed, and the people who haven't been believed, and the people who are afraid to speak up because they think they won't be believed," she said. "And I just wanted to say I'm sorry to anyone who ever wasn't believed, because I don't know what turn my life would have taken if people didn't believe me when I said that something had happened to me. So I guess I just wanted to say that we have so, so, so much further to go, and I'm so grateful to you guys for being there for me during what was a really horrible part of my life."
It was during a meet and greet at a 2013 concert when radio DJ David Mueller groped Swift. She complained, and he was fired. He then filed a wrongful termination suit against Swift, seeking $3 million from her. She counter-sued him for sexual assault, asking only for the symbolic $1 award she ultimately was granted. Swift also donated money to help others with similar court cases, which can be emotionally and financially draining.
"I acknowledge the privilege that I benefit from in life, in society and in my ability to shoulder the enormous cost of defending myself in a trial like this," she said in a statement after her win. "My hope is to help those whose voices should also be heard."