Taylor Swift Gave A Surprise Private Show To 2,000 Foster And Adoptive Kids
by Christina Marfice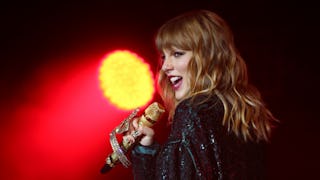 Image via Isabel Infantes/PA Images via Getty Images
Despite all her bad press, Taylor Swift keeps doing amazing things for kids
Taylor Swift is just about to kick off her Reputation World Tour, and as she wrapped up dress rehearsals at Arizona's Cardinals Stadium over the weekend, she decided to do something special before the tour officially starts: She invited 2,000 Phoenix-area foster and adoptive kids and their families to come to her final dress rehearsal, which is basically a private version of the real show.
One dad tweeted about the entire experience.
According to Ken Tram, Swift performed the entire show for the families, who filled about half of the arena. She then ordered pizza for everyone and stayed for hours after her rehearsal to meet fans, take photos and sign autographs.
According to E! News, fans were allowed to come onstage with Swift after the show to take group photos with her. One fan told the site that she tried to get photos with every single person who was there, but after a few hours, her security team stepped in and told her it was time to go.
Mom Kellie Dillon told E! that the families who were invited wondered if the free tickets were a scam.
"We received an email a few days ago through an organization called AZAFAP (Arizona Association of Foster and Adoptive Parents). They help organize events and extra-curricular things for foster kids and foster families. They released 2,000 tickets and everyone thought it was a scam at first," she said. "We thought it was too good to be true, but we all kept it a secret (per Taylor's orders) and sure enough had the time of our lives!"
Dillon continued, "My family and I have been fostering for over three years and have adopted too. I don't think Taylor understands what this meant to these foster and adoptive families! Some of these children have been through terrible journeys in their lifetime, so to be able to escape for an incredible evening like that was out of this world! She was so genuine and we truly felt like we were hanging out with a friend and had a pizza party at the end of the night. A magical evening we will never forget."
This was all after Swift took time out of her rehearsal schedule earlier in the day to visit a fan at the nearby Maricopa Medical Center. Eight-year-old Isabella was badly burned at a St. Patrick's Day party when a bonfire exploded, according to the Arizona Republic. She sent Swift a video message when she learned she would have to stay in the hospital and wouldn't be able to attend her Arizona concert.
"I heard you were here, and I wanted to visit you but maybe you can come and visit me," Isabella reportedly said in her message. Sure enough, Swift came to the hospital to visit Isabella, posing for pictures and giving her young fan hugs.
Swift's haters can be as loud as they want to, but right now, her actions are louder.