Taylor Swift Steps Up To Fight Anti LGBT Laws
by Christina Marfice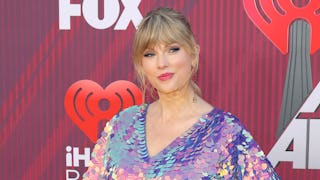 Image via Tony Barson/WireImage
Taylor Swift is apparently done staying silent about her political leanings
Taylor Swift is not a celebrity who's exactly known for taking a stand. In fact, she's been criticized throughout her career for staying noticeably silent about her political beliefs, rather than using her platform to fight things like racism and bigotry. Those days, however, appear to be behind her.
This week, Taylor Swift made a huge donation — we're talking $113,000 — to the Tennessee Equality Project, a nonprofit that advocates for equal rights for LGBTQ+ people living in the state. The organization is actively fighting against a number of anti-LGBTQ laws that have been introduced in Tennessee.
Along with her donation, Swift included a heartfelt, hand written note to Chris Sanders, the Tennessee Equality Project's executive director. The note was shared on Twitter, where it's gone viral.
"I'm writing you to say that I'm inspired by the work you do," she wrote. "Please convey my heartfelt thanks to them and accept this donation to support the work you and those leaders are doing."
Speaking to The Tennesseean, Sanders called Swift a "long-time ally," even though the first time she spoke openly and publicly about any political beliefs was just six months ago.
"Taylor Swift has been a long-time ally to the LGBTQ community," Sanders said. "She sees our struggle in Tennessee and continues to add her voice with so many good people, including religious leaders, who are speaking out for love in the face of fear."
Swift has been widely praised for this move.
https://twitter.com/jetpack/status/1115483527578030080
But there are also plenty of people criticizing Swift, and their homophobic comments are just showing exactly why her donation was so necessary.
Yep, people are actually saying those things, in a public forum. And excuse me while I write my own check to the Tennessee Equality Project.
The first time Swift spoke out, six months ago, was in an Instagram post where she urged her followers to vote against Republican Tennessee congresswoman Marsha Blackburn, and endorsed a pair of Democrats who were running in the state.
"I cannot vote for someone who will not be willing to fight for dignity for ALL Americans, no matter their skin color, gender or who they love," Swift wrote at the time. "Running for Senate in the state of Tennessee is a woman named Marsha Blackburn. As much as I have in the past and would like to continue voting for women in office, I cannot support Marsha Blackburn. Her voting record in Congress appalls and terrifies me."
Here's hoping Swift continues to speak out this way, and to support important causes that propel us all closer to equality. Taylor Swift has an incredible platform and following, and enough influence to make real change in the world. Now that she's using it for something this good, we really hope she keeps it up.