Taylor Swift Faced A Man Who Groped Her In Court Today, And Her Testimony Was AMAZING
by Maria Guido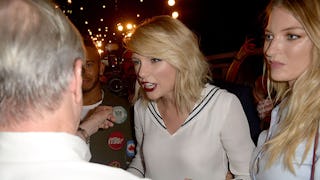 Image via Gustavo Caballero/Getty Images
Taylor Swift testifies against a radio DJ who allegedly groped her in 2013
In 2013, a radio DJ for KYGO, David Mueller, allegedly grabbed Taylor Swift's ass during a meet and greet photo op at Denver's Pepsi Center. The DJ was fired from his job after the allegations surfaced. He decided to sue Swift for "defamation."
Swift decided to countersue. For one dollar. Here's a photo taken at the time of the incident. It's pretty damning.
They presented the photo in court, to which Swift said, "Gabe, this is a photo of him with his hand up my skirt — with his hand on my ass," CNN reports. "You can ask me a million questions — I'm never going to say anything different. I never have said anything different." Another lawyer pointed out that the woman was standing closer to Swift than Mueller. Swift said, "Yes, she did not have her hand on my ass."
Yes, Swift took the stand today, and was truly a bad ass. She stood her ground, did not let the focus of the trial shift, and repeatedly nailed her accuser. Buzzfeed reporter Claudia Rosenbaum was live-tweeting the trial, and letting everyone in on Swift's amazing testimony.
As per usual for these types of cases, lawyers tried to lay blame everywhere but on the accused groper. They asked if she was critical of her bodyguard for not stopping Mueller. She replied, "I'm critical of your client sticking his hand under my skirt and grabbing my ass. "
She stuck to her testimony, contradicting Mueller directly.
Where you sure it was him? She responds "He had a handful of my ass. I know it was him."
She refused to let any kind of blame for the way Mueller's life has changed since the accusation shift to her. "I am not going to allow your my[sic] client to make me feel like it is anyway my fault because it isn't."
Yes, a lawyer actually asked her if she could "see" the incident directly. He must have eyes in the back of his head?
A jury of six women and two men will decide the civil trial.