Chip And Joanna Gaines Support A Problematic School Board Candidate––It's His Sister
by Nikkya Hargrove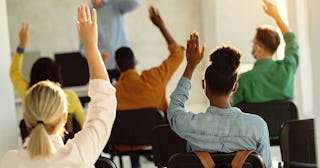 Drazen Zigic/Getty
"Critical race theory" is a fancy way of saying "let's have some real talk about our history and racism in America." It would seem that the insurrection that happened on January 6, 2021 was not enough to show our politicians — specifically our Republican politicians — that our country is in deep racist shit. As if the killings of unarmed Black and Brown people were not enough to push change in America, now we have people who don't want our kids and young adults to learn about racism and its role in creating systemic racism.
History tells us that systemic racism in America began with slavery. Today, we have people who are in power, from Congress to local school board members, fighting against teaching the truth about American history. What happens when we know the truth about something? It means we can't unknow it, and it means that we need to think about how we will act differently — and then, act differently.
Recently, Chip and Joanna Gaines (you know, the famous "Fixer Upper" couple with five kids) made headlines for reasons other than what house they were looking to purchase. Last month, Chip and Joanna donated $1,000 to Chip's sister who is running for a spot on the school board in a town not far from Fort Worth, Texas. Ordinarily, this would not make news; heck, $1,000 isn't even a huge amount of money. The reason this story is making news is because Shannon Braun, Chip's sister, believes critical race theory should not be taught in schools and "curriculum and teaching to academics" should be a teacher's priorities in the classroom.
It's hard to believe that the Gaineses were on episode 3 of Uncomfortable Conversations With A Black Man looking rather … well, uncomfortable. In conversation with Emmanuel Acho, Chip posed a very curious question: "How do we attack and solve a problem that I would say some people in our community don't even understand that we've got?" The video premiered in June of 2020, one month after George Floyd was murdered.
In the weeks following George Floyd's death, everyone seemed to want to do something. If you couldn't join a protest, then maybe you donated to an organization. If you couldn't donate to an organization, then you promised to educate yourself and work together towards change, towards righting the wrongs of our society, reckoning with the realities of history, teaching your kids to do better — like, I assume, the Gaines's attempted by appearing on Acho's show.
Today, though, we've reverted back to what we knew. Back to how we handled the truth, with people trying to run it out of existence — people who are trying to stop critical race theory from being taught in schools, or support its efforts, like when the Gaines's donated to Braun's campaign. Now, that seems to be the bandwagon everyone wants to jump on: denying that racism is, or was, an issue. And this is the wrong side of history, folks.
In an article called "Disputing Racism's Reach, Republicans Rattle American Schools," reporters Trip Gabriel and Dana Goldstein lay it all out loud and clear. They say, "Republicans have focused their attacks on the influence of 'critical race theory,' a graduate school framework that has found its way into K-12 public education. The concept argues that historical patterns of racism are ingrained in law and other modern institutions, and that the legacies of slavery, segregation and Jim Crow still create an uneven playing field for Black people and other people of color."
To deny that the concept of critical race theory exists, is to deny that racism in America exists. Jonathan Rosado, a middle school teacher who teaches in New York City, shares with Scary Mommy, "Students need to be able to think critically about race and racism, as they are experiencing it. In order to do this students need to be able to identify the racial inequalities that exist and understand the historical context of how these unjust systems came to be and continue to thrive in our society today."
Not only do they need to know how to think critically about race and racism, he adds, but they need to know how to have a productive conversation on these topics — discussions which need to happen in the classroom. Rosado says, "Using CRT in my classroom is providing my students with the context and skills they need for their future."
The progress of our society depends on how we address the issue of racism today. Denying the teaching of critical race theory pushes us back as a society, and does not help to propel us forward and stunts our kids' education.
Maybe Chip doesn't truly support his sister's ideas. Maybe his $1,000 was meant to be simply a gift from him as her brother a supportive gesture of sorts, or maybe it was donated because of guilt — his parents donated $2,000 to her campaign, surely he needed to donate something, right? Whatever the catalyst for the donation, it looks shitty as a white man, married to a biracial woman, putting their money where their supposed intentions were back in June 2020.
I was team Fixer Upper for years and I almost shed a tear when I had my own lightbulb moment about the Gaineses while watching them speak with Emmanuel Acho. I realized while watching the family that I once admired, that they just didn't get it. As parents, like all of us, they want their kids to understand and know better — at least that's what they seemed to convey in their episode with Acho. But their $1,000 says something totally different. Their $1,000 told their kids, their customers, and their fans that they don't believe the truth about racism should be taught in schools, that we cannot be informed by our history, that George Floyd's death was not perpetrated by a racist cop.
We have a long way to go as a society in terms of understanding the existence and perpetuation of racism. We know that in order to not repeat the wrongs of history, we must know our history, and that education starts in school. (Unless, of course, you are a minority, then that lesson starts at home with your Black and Brown parents explaining American race relations to you.) Teachers are seemingly caught in the middle. They need to address their own biases, whether conscious or unconscious, in order to teach critical race theory.
Mom and high school teacher Rohanna Delassantos, who teaches in Connecticut, says about critical race theory in her classroom: "To teach history without utilizing CRT limits my ability to connect the content to my students' lives. Awareness of race, experiences of racism, and fear of discrimination and judgement are all regular realities for my students."
In the end, no matter how harsh it may be, history needs to be taught — accurately. We must hear it and learn about it in order to help us move forward. One teacher friend of mine posted on her Facebook page, "If Black children are old enough to experience racism, White children are old enough to learn about it," I don't know if she came up with the quote or not, but it's one hell of a reality check for the naysayers. Which brings up another of Jonathan Rosado's points: "Teachers need to feel relatively comfortable with what they are teaching and I think many teachers are still uncomfortable navigating/having conversations about race and racism. Teachers have to teach themselves about CRT, find trainings and seek out colleagues who are also doing this work, which shouldn't be the case."
Our children aren't the only ones who need to learn about our history in order to not repeat the shortcomings of our past; we all have a role to play, both inside and outside of the classroom, to educate one another about race. It's not just up to Black people to keep the conversation going, to share about our lived experiences constantly. It's a collective effort — which you'd think a team like Chip and Joanna Gaines might be able to understand.
This article was originally published on