The Best Teacher Appreciation Ideas With Not A Mug In Sight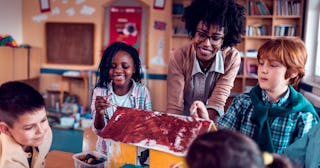 Marko Geber/Getty
Dedicated and hard-working educators make it their mission every day to teach our children. They create digestible content for all types of learners and often use valuable resources (read: overtime and their own money) to support their students. They deserve our deepest gratitude. As Teacher Appreciation Day approaches in early May, let's show educators that the job is not as thankless as it sometimes seems. You might be looking for some inspiration on the best gifts. Here are our favorite teacher appreciation ideas you can try — and that they will actually like!
RELATED: 100+ Jokes About School That Are Definitely For The Cool Kids
Write a Thank You Note to a Teacher
Teachers love heartfelt handwritten notes and letters from parents and students. Make yours sentimental or funny. Talk about why you like that teacher's class, and try to show sincerity, respect, and thoughtfulness. Scented candles last for hours, but teachers keep these notes forever.
Tip: Spice up your teacher appreciation thank you note by pairing it with a nice bottle of wine.
Treat Them to an Experience
We've been cooped up for way too long thanks to COVID-19. That goes double for teachers who have seen their workloads drastically increase to support remote learning. Help them get out of the house with a gift certificate or gift card. Your present will pull double duty by also supporting local businesses.
Massage/manicure/pedicure — Teachers are not known for being pros at self-care. Any gift that shows gratitude for the sacrifice they make will be appreciated even more than a "World's Best Teacher" mug.
Dinner and a movie — Teachers often give up time with their own families to focus on students in need. A gift certificate to a local restaurant and theater for a date night would brighten up their world.
Coffee or Tea — Teachers usually enjoy one or the other. You can give them a gift card to Starbucks, Dunkin Donuts, or a favorite local shop.
Show That You're Listening
The best teacher appreciation ideas show that you've gotten to know the person receiving the gift.
What is their favorite color? — Is their favorite color red? Give them a bouquet of red flowers and a note that says, "Thank you for being a REDiculously amazing teacher!"
What is their favorite hobby? — Do they love ballet? They might adore a ballet dancer figurine or snow globe. That note can say, "Thank you for giving us the confiDANCE to learn!"
What is their favorite sport's team? — Do they love Alabama Crimson Tide? The world is wide open when buying for a sports fan, such as branded hoodies, socks, hats, sunglasses, home decor, and more.
DIY Something
Make food — Cookies and chocolate are irresistible, but that might not be what this teacher wants to eat. You've got options! This is another idea that pairs well with wine. *Wink* *wink*
Put together a fruit basket.
Bake bread/cornbread/muffins.
Curate fancy cheeses and cured meats.
Find out what the teacher's favorite food is and make that with your child.
Craft a helpful present — You can decorate almost anything and consider it a gift. If you want to make this gift extra special, think outside the box. Solve a problem for the teacher or enhance their daily routine. Here are some examples:
For the teacher that constantly loses things, make an apron in the teacher's favorite color with deep pockets.
For the teacher who likes to keep lists, make a clipboard with a wipe-away surface. After all, we're all just trying to hold it together.
For the teacher who is always cold, make (or buy) a small, simple quilt and include each student's handprint on it.
Put together a video — Some of the best teacher appreciation video ideas include:
A photo collage of memorable moments from the school year set to music.
Each student can record gratitude snippets for a compilation video.
Best Gift Cards For Teachers
Anything a child gives their teacher will be treasured and absolutely adored. But if you want to give your kid's teachers something they can really use, gift cards are the way to go.
Target. Everyone loves Target, including educators. There are so many things you don't know you need. But no worries! Target will always tell you. You can get everything from a toothbrush to a sound system.
Door Dash/Seamless. Give your teacher the gift of a great meal without the hassle of going to a restaurant. Instead of wracking your brain about what their favorite meal is, a DoorDash or Seamless gift card gives them a variety of options to choose from.
What NOT to Get Your Teacher
Mugs — Teachers get so many mugs. So. Many. Mugs. If you insist on showing appreciation with a mug, make it personal. Have your child draw a picture or write a sincere message on it.
Candles, perfumes, lotions, and other scented items — Your favorite scent might not be someone else's favorite scent. Unless you know that the teacher is head-over-heels for a certain smell, steer clear of this gift.
Generic trinkets — Teachers have cherished boxes of ornaments and tchotchkes from students. In the end, however, only a few see the light of day. If you're going to gift the teacher something in this category, try to align it to their personality and taste.
Show Respect Every Day
Above all other teacher appreciation ideas, the best gift a teacher can receive is when their students make a genuine effort to behave, pay attention, and show a willingness to learn every single day.
More Ideas
Planners. Watching 15 plus kids can be a lot of work, and when you're a teacher, there's no such thing as too much organization. Even if they don't end up using the planner for their job, they might use it to balance their teacher life with their private one.
Socks. Teachers are typically quirky characters, so get them some fun socks with a math joke on them or a cartoon character they have hung up around their classroom!
Custom Set of Pens/Pencils. Teachers can never have enough writing utensils, so get them a pack with their name on it. They may have a million pencils, but they'll definitely use these on super special occasions.
Make a big thank you card — A regular sized thank you card is cute, but a child sized note will make your teacher feel super special.
Make an enormous thank you card. Get a poster board or big construction paper and fill it with thanks yous from the class, parents, and other teachers. You can either have it delivered to their house or have it waiting on their desk. Make sure it's colorful and filled with pictures of the class. It' a super sweet touch to put each child's pictures next to their then you note.
This article was originally published on