Dear Teachers: We Are So Grateful For You
by Hollie Smith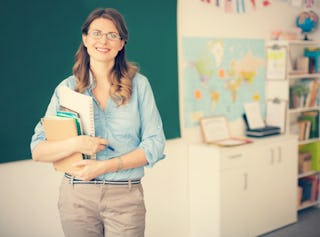 svetikd / iStock
Dear Teacher:
We are down to the last few days of school, which means it's that time of year when we think about ways we can thank you for all you've done for our kids these past nine months. But when I think about the role you play in the life of our family, I'm not sure any token gift can adequately express how grateful we are for you.
First of all, I don't know how you do what you do day in and day out. Just the fact that you show up for your job every day is pretty huge. As one who has a heightened fear of germs and a weak stomach, I'm amazed how you expose yourself to every sickness known to man by casually walking into the cesspool of germs which is your school, comforting kids when they don't feel well (do you realize the norovirus can be airborne?!), and triaging playground injuries.
I've heard stories about some of the messes you have to clean up. There was a day not long ago when one of my girls hopped in the car and announced, "Allen ate too many goldfish and threw up today. His throw-up was orange, and it took three men and a big machine to clean it up! The music teacher says she might have to get a new rug." Bless the music teacher. Bless her heart. And that rug. I can tell you right now I would need Phenergan and a hazmat suit to deal with a situation of that sort. But stuff like this doesn't faze you. Bloody knees, loose teeth, smashed fingers, broken arms, black eyes, pink eyes, gummy worms in places they should never be—I'd say you've seen it all this year. Your stamina does not go unnoticed.
I know how much energy my children have and how that energy multiplies when they're in a group. But I've seen you handle the collective energy of 20-plus kids with patience and grace. I've seen you on field trips on a farm, at the zoo, in a factory, even in a cave—you're calm, you're collected, and you're interested in what the kids are learning even though you did this exact same field trip last year and every other year before this one.
And, most surprisingly, you seem to be enjoying yourself! How does one do this when they are in charge of so many small people who rarely follow instructions or use good judgment in public places? I have to think long and hard before committing to a day at an amusement park with my three kids. But you willingly hop on a bus with 60 kids (many of whom have never ridden on a bus before and are literally bouncing off the seats with excitement) and head out to the middle of a pumpkin patch? No, thank you. There's not enough coffee in the world for that. Your enthusiasm for learning does not go unnoticed.
My girls like to ask questions—lots of questions. And sometimes they tell me the questions they (or their friends) have asked you at school. Of course they have questions about science and math, and everyone wants to know what they're having for lunch or when they'll be going outside. But it's really their curiosity about you that is insatiable. They need to know how old you are, your relational status, your family history, your medical history, where you live, where you used to live, and why you wear the earrings you do. My adult co-workers are equally curious, but in most cases, they know better than to ask every question or share every thought that crosses their mind. Some of my teacher friends have told me about conversations that have come up during circle time. I know some of you have fielded personal questions like, "Why aren't you married yet?" or "Why do you wear that shirt so much?" or "Did you know you're 20 years older than my mom?!" Answering hundreds of inquiries of this nature requires patience, grace, and tact. Your resilience does not go unnoticed.
I love to laugh, but I'm not good at being silly. You know how to do silly, and kids love you for it. I've heard some of the songs you sing about everything from the days of the week to the names of all the U.S. presidents. I've heard about how you've gone on "bear hunts" and searched the school for a missing gingerbread man. I've also seen you dress up like Johnny Appleseed, like a penguin, and like a donut, like it's no big deal. Your lightheartedness does not go unnoticed.
A lot of times our mornings are hurried and harried. There is weeping and gnashing of teeth over everything from missing socks to spilled milk. Unfortunately, there are days when I drop my kids off having hurt their feelings or not having said a kind word all morning. But this is what I know: You can turn our bad start around in an instant. I see you greet my girls with a smile and a "good morning" day after day. I imagine there are mornings when you have to set aside your own feelings, stress at home, maybe a headache, a backache, a cold. Whatever the case, you have to push through your own issues because a bunch of kids are counting on you to be consistent and chipper and more interested in them than your own affairs. And so you are. Your compassion does not go unnoticed.
It's one thing to love your own children. I get that. I would lay down my life for any of my three at any moment. It's quite another thing, though, to feel love for a roomful of children who are not your own. Yet, I have been in your classroom at open houses and read your emails sent early in the morning or late at night and talked with you at length at conferences, and I sense you feel real love for these kids in your care. You know them, you grow them, you think about them, you pray for them, and you challenge them to be their best selves in your classroom, which spills out into who they are at home and in the real world. Your love does not go unnoticed.
Since my firstborn was very young, I've always clung to the adage that "it takes a village to raise a child." And you're a very important part of our village. I know there are people who choose to homeschool and do an excellent job with that calling. We tried a version of that for one year, and quickly found it is not a good fit for us. Basically, we need you on our team. Specifically, I need you. I can't do what you do. But I can do what I do better because of you.
As I write this, I have specific teachers in specific settings in mind. When I think beyond our own experiences, I realize there are teachers doing the things mentioned above—and then some—in settings where they may well be the only stable, loving adult their students come in contact with each day. I don't know the half of the heart many of you are putting into your job, knowing your presence and persistence is making a difference in the life of a child. All I know is that your job is a ministry, and you are making a difference.
May God bless each of you this summer with rest and rejuvenation. And may you come back in a few months ready to do it all over again with another room of eager, energetic children who will be looking up to you with wide eyes, maybe a few toothless smiles, and ever-impressionable minds. We will pray you can re-enter your mission field with as much enthusiasm and energy as ever before come August. We will be so ready, and so happy to see you.
Until then,
Hollie
This article was originally published on