Student 'Prank' Sends Teacher To Hospital With Life-Threatening Allergic Reaction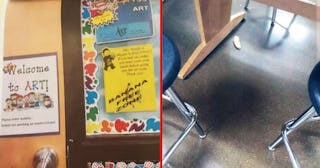 ABC 6 On Your Side l WSYX-TV/Youtube
The teacher's throat began closing up even after two EpiPens were used to help her
A Columbus art teacher with a serious banana allergy was rushed to the hospital after three middle school students played a "prank" on her. The teacher's allergy was apparently very well-known throughout the school, and she even had a sign on her door alerting anyone who entered that they must wash their hands if they'd handled or eaten a banana that day before coming inside.
The incident occurred last fall, but is now gaining public attention after a local news team uncovered the serious food allergy incident as part of their investigation into the working conditions for Columbus City school teachers.
One 13-year-old girl and two 12-year-old boys are at the center of the prank-turned-life-threatening-emergency for the school's art teacher, Mrs. Woods. They allegedly smeared banana on her door and doorknob before throwing them at her while she was inside her classroom. She went into anaphylactic shock within 15 minutes.
"That could be attempted murder," a Columbus City Schools security officer is heard telling Columbus Police officers in a body camera video, which was obtained by ABC6. The call about the attack came from Starling K-8 school last November. In the video, the security officer is seen escorting police to the art teacher's door where signs are posted clearly stating the classroom is a "Banana Free Zone."
"All of the kids know she's deathly allergic to bananas," the security officer told the police. "If it touches her, she will go into anaphylactic shock." According to the officer, Mrs. Woods began to "change colors" while in shock and one EpiPen wasn't working so another dose was administered. Her throat began to close up and she was rushed to the hospital, where she was thankfully able to recover.
Each of the three offenders has all been sentenced to probation through the local juvenile court. Unfortunately, this isn't the first incident of an assault on a teacher in the area. In fact, Columbus Police tell ABC6 that "felonious assaults" on teachers have increased in 2019 with more than 30 cases since January. In 2017, there were 65 total assaults on city school campuses — which is triple the number from 2016.
Earlier this week, hundreds of teachers with Columbus City Schools marched outside of City Hall as contract negotiations were going on with the school board. The Columbus Education Association is in the process of trying to obtain a new contract for the city's teachers, which includes higher pay and more benefits, as well as reduced class sizes.
Teachers also say they are fighting for better working conditions and alternative plans to discipline or wrap-around services for troubled kids.
This article was originally published on