2 Virginia Districts Combat Teacher Burnout By Ending School Days Early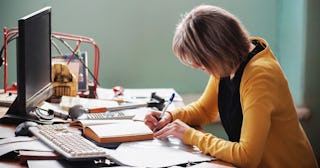 n_defender/Shutterstock
Teacher burnout is a serious, growing problem. Here's how two school districts in Virginia are trying to address it
The pandemic has put an incredible amount of stress on teachers. From having to pivot to online learning essentially overnight in 2020, to being asked to return to work, in many cases, before vaccines were available to protect them from the virus that may have been swirling through their classrooms, to becoming pawns in politicians' culture wars over masking and other safety measures — just, hug a teacher if you can. They've been going through it, and burnout rates because of *all of this* are astronomical.
To help combat burnout, two Virginia school districts are trying something novel: On select Wednesdays, they plan to dismiss classes early and send kids home so teachers can have a little bit of extra time off.
The Virginia Beach City Public School board voted 9-1 on Tuesday to end classes two hours early on seven Wednesdays over the next three months, according to a local NBC affiliate. The plan is for teachers to have that time to spend preparing for lessons, without any distractions or interruptions, and without having to do any prep work outside of regular school hours.
"Our teachers are being asked to do more, to cover more, to cover cafeterias, to cover hallways and to cover their colleagues' classrooms more so than they ever have before," Superintendent Aaron Spence said. "They are not able to prepare for instruction."
This move comes after Suffolk Public Schools instituted a similar system earlier this month. There, early dismissals will start in November, and students will continue to be released early on biweekly Wednesdays for the rest of the school year.
"Teachers and instructional staff have lost valuable planning and professional development time as a result of the impact of COVID-19 absences and coverage needs, quarantine instructional support requirements, and other circumstances," a memo circulated in the district said.
The changes in these two districts come after results of a nationwide poll showed that job satisfaction for teachers plummeted from 69 percent before the pandemic to just 44 percent in October of 2020. 63 percent of teachers said they feel stressed, 54 percent said they have high levels of burnout and fatigue, and 47 percent reported having substantial anxiety about their jobs. More than one in three teachers (38 percent) said that working during the pandemic has made them consider changing jobs.