Teacher Caught On Video Yelling At 1st Graders For Getting Math Problem Wrong
by Maria Guido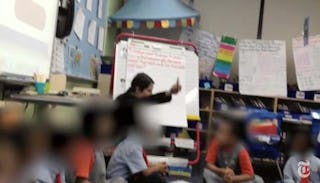 Charlotte Dial is a teacher at Success Academy, a charter school in Brooklyn. In 2014, a teaching assistant taped Dial chastising a first grader for getting a math problem wrong. Today, the New York Times ran that video.
In the video, the class sits cross-legged in a circle. Dial says to a student, "Count it again, making sure you're counting correctly," in a very annoyed tone. The student starts counting: "One… two…" Then she stops and looks up at her teacher.
At that moment, Dial takes the girl's paper and tears it in half. "GO TO THE CALM DOWN CHAIR AND SIT," she yells. "THERE'S NOTHING THAT INFURIATES ME MORE THAN WHEN YOU DON'T DO WHAT'S ON YOUR PAPER. SOMEBODY COME UP AND SHOW ME HOW SHE SHOULD HAVE COUNTED TO GET HER ANSWER… DO NOT GO BACK TO YOUR SEAT AND SHOW ME ONE THING AND THEN DON'T DO IT HERE. YOU'RE CONFUSING EVERYBODY."
I'm using all caps because that's the universal sign for YELLING. This woman is yelling. At first graders. For not doing a math question right.
Success Academy Charter School was in the news a few months ago, for keeping a "got to go" list of kids they planned on forcing out of the school.
The video was recorded secretly in 2014 by an assistant teacher who clearly recognized Dial's behavior as ridiculous and out-of-line. She shared the video with The New York Times after she left Success in November.
A spokesperson for the school told the NYT that teachers should never yell at children, "use a sarcastic, frustrated tone," "give consequences intended to shame children," or "speak to a child in a way they wouldn't in front of the child's parents." Those rules don't seem to hold much water, though.
A former teacher and principal told the NYT "starting in third grade, when children begin taking the state exams, embarrassing or belittling children for work seen as slipshod was a regular occurrence, and in some cases encouraged by network leaders."
"It's this culture of, 'If you've made them cry, you've succeeded in getting your point across,'" she said. A group of parents defended Ms. Dial, saying her behavior is "not reflective of what happens here." They say it's an "unfortunate minute and a half out of an otherwise amazing building experience."
The fact that an assistant was at the ready to tape her speaks way louder than some parents defending actions they're not usually there to see. And why someone would defend this absurd behavior is a little baffling.
"They demand excellence," says one of the parents defending Dial. "That's a great thing. That's not a bad thing. They demand excellence. They get excellence. That doesn't happen in many other schools."