'It Wasn't A Difficult Decision At All': Teacher Donates Kidney To Student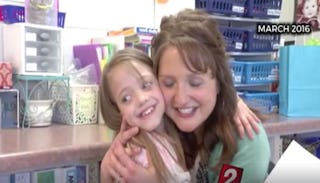 Wisconsin teacher donates kidney to save a student's life
As the school year starts, parents are more thankful than ever for the teachers who will be taking over for the next nine months. After a summer spent keeping our kids occupied, the school year couldn't arrive more quickly. And the underpaid, overworked people who care for, educate, and mold our kids are nothing short of life-savers.
In the case of one little girl suffering from a chronic kidney disease, that's exactly what her teacher is.
According to a story on the KATU News Facebook page, when third grade teacher Jodi Schmidt discovered that she was a match to be a kidney donor for an eight-year-old student at her school, she didn't hesitate.
"It wasn't a difficult decision at all," Schmidt said, referring to her heroic decision to help save the life of first-grader Natasha Fuller. The pair had surgery last May to undergo the successful transfer of Schmidt's kidney to the little girl, and this fall, both student and teacher are doing well and back in school together. This time with a new bond, as kidney buddies.
It's nothing new for teachers to go above and beyond for our kids, and even the simplest gesture often goes a long way, impacting children and their families for years, even changing the course of lives. Every single one of us remembers the name of a favorite teacher or two, and some of us even have teachers to thank for setting us on future career paths.
It doesn't require life-saving surgery to be indebted to our teachers, or to appreciate the sacrifices they make in the name of our kids.
But having major surgery is exactly what Jodi Schmidt was willing to do to give Natasha Fuller a chance to live the normal life of a little girl. For years, Natasha had been suffering from her illness, often missing school as a result of needing frequent dialysis. But not anymore.
"Mrs. Schmidt is a wonderful teacher. And she takes care of a lot of kids," says Natasha, in the understatement of the year. "She's the best!"
We're willing to bet that Natasha's parents agree.
This article was originally published on