This Teacher's Video Empowering Black Students Is Winning The Internet
by Sa'iyda Shabazz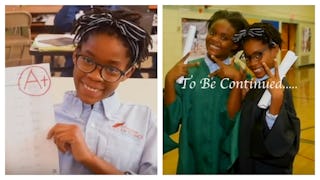 Terrance Sims / YouTube
"I am so focused and gonna do something with my life…"
This is a line from Excellence First, a popular new video put together by Milwaukee-based teacher Terrance Sims, which shows the power of education for his young black students.
This isn't your typical "school is awesome" video.
In the video, two of Sims's female students rap about the importance of getting an education and how it will help them achieve great things as they get older. Not only do these girls have skills, the video is a breath of fresh air, especially for other black children.
Sims is a sixth-grade teacher at Milwaukee Excellence, and he uses rap and hip-hop to engage his students. According to an interview with Black Enterprise, he not only uses rap to teach students about their worth, but also to teach them academics as well. "Whatever it takes to get kids to learn, I am willing to do," he said.
For many students, sixth grade is such a critical turning point, so it is important to remind them of their worth. This is especially true for black students who are often already at a disadvantage by the time they are in the sixth grade. Having a black teacher to guide them and take a serious interest in their education can most definitely set these kids on a positive path.
One of the other standout points of the video is that the two featured rappers are both girls. "My values will make me stand tall" is the opening line of the song. By having these girls take the lead on this rap, Sims is setting them up to succeed in a system that is designed for them to fail. Black girls are often seen as older, and therefore it's assumed they need less nurturing, which means they often don't get the support they need in the classroom.
But these girls are getting that support through a teacher who has taken an interest in their abilities and is helping to cultivate them. Kudos to you, Mr. Sims.
And what makes this even more amazing? This is his first year teaching at Milwaukee Excellence — his first year! — and he wanted a way to create a sense of trust between him and his students.
Mission accomplished.
Black teachers, especially black male teachers, aren't something you see very often in this country. But there are plenty of black kids in school, and they need someone who will not only nurture them and help them achieve academic success, but also someone who understands the struggles they may be going through. Despite the fact that black women are highly educated, there is still a lack of empowerment for them from the world at large.
"Michelle Obama showed me how to do it, so I'mma get it, educated, motivated, melanated, elevated. Got big shoes to fill so I'mma do it with class," raps one girl in the video, which makes me want to stand up and cheer.
Trust me when I say that it is super-powerful for a young black girl to be saying these words and for other young black girls to be hearing them. They need to know that, contrary to what the world at large might tell them, they have worth and they can go on to do great things.
As this video continues to go viral, the message remains clear: If you empower black children, they will believe, despite the negative messages the world often sends them, they can run the world someday. Because they can, and they will.