Texas Teacher Fired After Tweeting At Trump To Remove 'Illegals' From Her School
by Julie Scagell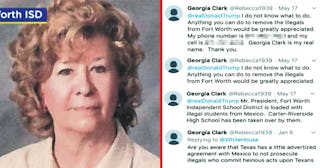 Fort Worth ISD / CBSDFW
The teacher thought her tweets about "removing illegals" from her school were private
A Fort Worth, Texas, teacher has been fired after she publicly tweeted at Donald Trump to begin "actively investigating and removing the illegals" from her school.
Georgia Clark, an English teacher in the Fort Worth Independent School District since 1998, believed her tweets to the president were private, but unfortunately for her were public for all the world to see. In a series of discriminatory tweets, Clark said, among other things, "Mr. President, Fort Worth Independent School District is loaded with illegal students from Mexico. Carter-Riverside High School has been taken over by them. Drug dealers are on our campus and nothing was done to them."
In another tweet, Clark said "the Mexicans refuse to honor our flag" and asked for help in reporting what she believed were illegal immigrants from classrooms. Clark identified herself by name in at least one of the tweets and included two direct phone numbers for the president to call her in what is a now-deleted Twitter account.
FWISD Superintendent Kent Scribner sent a message to parents last week as news of Clark's tweets went viral, saying, "There has been much talk in the news and on the Internet about the use of social media by our staff. Our mission is to prepare ALL students for success in college, career and community leadership. Let me reiterate our commitment that every child in the District is welcome and is to be treated with dignity and respect."
The Supreme Court ruled in 1982 that undocumented children are entitled to attend public schools under the Equal Protection Clause of the 14th Amendment to the Constitution, stating "No state shall deny to any person…the equal protection of the laws."
As the school district investigated the tweets, a confidential memo obtained by CNN also revealed that her dismissal may have been the result of more than just her discriminatory tweets. Students came forward and said she made racist remarks the same day she tweeted the president. When a student asked to go to the bathroom, Clark allegedly said, "show me your papers that are saying you are legal."
It makes sense Clark would believe speaking to Trump directly would result in action. Just this week his administration started canceling programs for unaccompanied migrant children "not directly necessary for the protection of life and safety, including education services, legal services, and recreation," including recreational activities, legal aid, and English lessons.
His administration have also had Immigration and Customs Enforcement officers show up at elementary schools in the past looking for undocumented students. His war on immigration has been so public and so inhumane, it opens the door for people — teachers — who are meant to protect students to misuse their position of authority to enable his actions.
"Anything you can do to remove the illegals from Fort Worth would be greatly appreciated," she said. Clark said she will be appealing the school board's decision.