Wife Shares Hilarious Photo Of Teacher Husband's '1,080th Day Of School'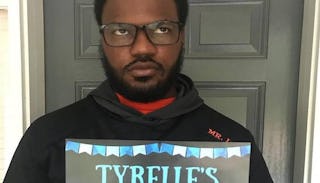 Image via Jennifer Lee
This teacher's photo might be the best 'first day of school' photo ever
It's that time of year again when we log onto our social media accounts and take a gander at everyone's "first day of school" photos. Many parents have their kids hold up a chalkboard or customized sign to commemorate the occasion — it's really all the rage. One wife and mom was inspired by the trend, but not for her kids.
Nope, she made her teacher husband pose for probably the best "first day of school" photo yet.
Jennifer Lee, wife to Tyrelle and mom to their adorable little girl, decided her husband deserved a little Facebook attention for being a teacher gearing up for his 1,080th day of school. "My husband is a pretty laid-back guy, so when I told him I wanted to take a 'first day of school' photo of him this year, he didn't ask too many questions and said 'okay,'" Lee tells Scary Mommy.
LOL. That sign though! She listed his favorite color, his age, his favorite things (I, too, have a penchant for chicken wings and Vans shoes). It's absolutely amazing and no wonder this photo immediately went viral on Facebook.
Tyrelle is an 8th-grade teacher, and Lee says he's always looking for ways to relate to his students. "I thought this would be a fun way to do that," she says. "And I knew it had worked when his students came to class saying, 'My mom saw you on Facebook – that was funny!'" She says Tyrelle wears a different pair of Vans every day, and his students can't wait to get to class each day to see which pair he has on. ADORABLE.
Lee says she in no way expected her husband's photo to go viral. "I've really enjoyed calling my husband and saying, 'guess how many shares you have now!' and it shocks him every time when I tell him." People are genuinely craving some wholesome, well-deserved, funny-but-adorable content. Also his facial expression in the photo gets an A+ from me.
"Teachers in general do not get enough recognition for the jobs that they do every day and I'm so glad that so many teachers have enjoyed the picture and shared it with their colleagues," Lee says. "They are the real MVPs!"
Lee tells Scary Mommy she's super proud of Tyrelle for all he does as a teacher, coach, husband, and father. "I look forward to one day making him and our daughter take their 'first day of school' photos alongside each other each year. Hopefully she will be as good of a sport as her dad!"
This article was originally published on