12 Gifts For The Teachers Who Put Up With Our Kids
by Team Scary Mommy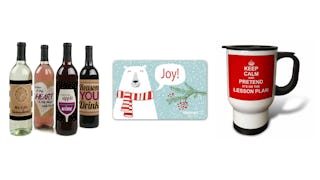 Images via Walmart
When I think about what I'm thankful for, the list usually goes: my family, my health, coffee, and teachers. And sometimes, depending on the day, teachers are higher on that list. They are angels sent down from heaven to take our sweet, loving children for many hours a day. And they do it willingly.
So come holiday season, we might want to show our appreciation to these saints. Here's some ideas:
Obviously we know teachers don't need more traditional mugs with apples on them, but what do they still need? TRAVEL COFFEE MUGS to keep their coffee hot all day long. This hilarious stainless steel travel mug is the perfect choice for a teacher gift.
2. Snarky wine bottles (to match their mood on a Friday afternoon)
Teachers are humans too, and they might want to partake in an evening drink. S0, if you know that's your child's teacher, how about a heartfelt or a snarky wine label that you can attach to a bottle of pinot with a note that says Happy Holidays and thank you for being a saint! This one's a four-pack, so if you have a gaggle of kids, you can make one for each teacher!
3. Alphabet Cookies (because learning is fun, kids!)
We all know that teachers purchase everything from school supplies to baby wipes to snacks for their students out of their own paychecks. This case of alphabet animal cookies would be a hit for any kindergarten or preschool teacher as they stock their classroom pantry, and it would ease their finances a bit.
Teachers often need a quick filler or an attention-grabbing activity to start the morning, so a desk calendar with a "word of the day" or interesting fact about science or American history could be just the thing to get those kids in the school mindset.
Teachers use their voices all day long, so hydration is crucial for them. Getting the teacher in your life this water bottle from The Pioneer Woman® says, "I appreciate how hard you work and don't forget to take care of yourself."
We all worry that our kids will get sick. But guess who deals with 20-something kids spitting and boogering and wiping their germs everywhere all day long? Teachers. This de-germing classroom kit from Purell says "Please stay healthy" to your kid's teachers, but it also says, "Please help my kid stay heathy" too.
No teacher will turn down books for their classroom, so it's never a bad thing to give them as gifts. Families, Families, Families by Suzanne Lang and Max Lang is a children's book that teaches kids that families come in all shapes, colors, and sizes, and that all you really to make one is people loving each other.
Another gift idea that teachers will love you for is school supplies. Depending on your child's age, teachers would greatly appreciate pencils, dry erase markers, crayons, or glue sticks (among 892 other things.) But you'd make the holiday a whole lot brighter for pretty much any teacher of any age group with this Post-It Super Sticky Notes Cabinet Pack.
For a math, science, or technology teacher, a gadget like this mini wireless 3-D printer from XYZprinting would be the ultimate gift. The whole class could chip in and deliver something like this to their teacher as a way to say "thank you" and also "we can't wait to learn and create more amazing things with you."
You really can't go wrong with chocolates, right? This bag of Ghirardelli Chocolate Squares Milk & Caramel Chocolate is a salty-sweet combo that will make your child's teacher feel loved for sure.
They say "a thank you goes a long way" for a reason. Lord knows teachers don't do it for the money. They do what they do because they love our kids. So having them write their teachers a thank you note and saying what they love about 5th grade or kindergarten is a gift in itself. These Alphabet Soup Thank You Notes are a fitting choice.
In the end, though, there's probably no better gift for your kid's teacher than a gift card. This way they can get pens, glue sticks, or their own bottle of wine if they want, especially after that last exhausting day before winter break.
I'd probably give my kids' teachers a non-vital organ if it meant they'd still show up in the classroom every day, but until that happens, I'll probably choose a couple items off this list as a way to show our sincere appreciation for their wonderfulness.
We are a participant in the Walmart.com Affiliate Program and may earn fees by linking to Walmart.com and affiliated sites.
This article was originally published on